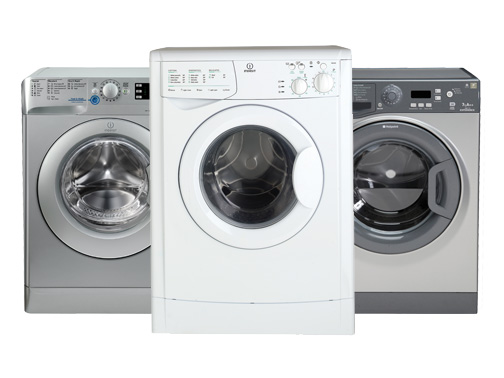 The Washing Machine is one of those must-have domestic appliances which has completely revolutionised the way we live our lives. Choosing the right appliance to meet your household laundry needs however, can be a bit daunting. That's why Dalzells have put together a Washing Machine Buyers Guide to help you make an informed choice. Take a look at the sections below and then browse our selection of Washing Machines online. Better still why not visit our retail store at Markethill for the best advice, not to mention the best deals available, in Northern Ireland and the Republic of Ireland? For Washing Machines think Dalzells.      
Which Washing Machine?
Many of us are brand loyal. Maybe we've had a particular brand of washing machine in the past and it's lasted for years so the natural thing to do when replacing your old washing machine is to go for the same one. However, most brand names now create first class washing appliances so the rule of thumb now is to have a budget in mind first then decide what type of washing machine you need rather than choose it by the manufacturer's name. Dalzells stock all major washing machine brands including Samsung, Zanussi, Hotpoint, Bosch, Indesit, Miele, Electrolux, Siemens, Neff and Beko.
Freestanding v Semi or Integrated Washing Machine 
A freestanding washing machine, as its name implies can be positioned almost anywhere within a laundry room or under a worktop in a kitchen. If it is to be positioned under a worktop then you just need to make sure you have easy access to a power socket and can have it plumbed into your water feed easily.    
Integrated washing machines, also known as Built-In Washing Machines, will be positioned under a worktop either in the kitchen, laundry or utility room with the front completely hidden by a door which will match your existing kitchen cabinetry. A semi-integrated washing machine will also have a door but the control panel will be exposed. It's all a matter of personal choice and available space and doesn't influence the performance of your washing machine.   

Drum Capacity    
The larger the drum capacity the more washing you can do at any one time. A large washing machine will hold up to 9k which is perfect for washing duvets, curtains and sports team kits if you ever need to take your turn after your child's weekend sports activity. Fewer washing days mean a big saving on time and money. A smaller capacity drum is ideal for a young couple with an infrequent wash load and there are even slimmer washing machines available from Dalzells
Spin Speed
Most washing machines have at least two spin speeds:
1000 – 1800 rpm which is a higher speed for cottons
400-800 rpm for synthetics and delicates
If you plan to use a tumble dryer after washing then choosing a machine with a high spin speed will mean that you can extract more water and save time and money on the tumble dry process.

Energy Efficiency
All washing machines have energy efficiency gradings from A-G with A being the most energy efficient. The more expensive machines all tend to be graded A and above (such as A+) and come with features like fuzzy logic and delay timers which means you can set the machine to wash your clothes when off-peak electricity tariffs are in place. Dalzells retail washing machines from standard to high end spec all with the best deals available to help you get more for your money.  

Special Features
An LED feature on a washing machine will let you know how much time is left to go on the current cycle. Also you may want to choose a washing machine with a delay timer so you can set it to come on when you're out so that it just finishes when you arrive home again. There is also anti-mould door technology to protect the seals and prolong the life of your machine, fuzzy logic which adjusts the temperature and amount of water used by calculating how much washing is in the machine. Then there is the steam clean setting which means fewer creases and cleaner clothes.    
Delivery & Installation
Dalzells offer free delivery across Northern Ireland and within counties Lough, Monaghan and Dublin. See our website for full delivery information. For details on installation see our appliance connection page.