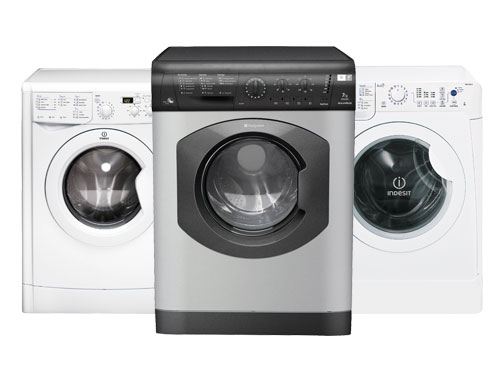 Washer Dryers
If you're short on space a combined washing machine and tumble dryer could be the ideal solution. When choosing a new washer dryer for your laundry needs whether you're going for a built-in, otherwise known as integrated, or a freestanding model there are a few important points to consider.

Drum Capacity
Make sure the drum capacity of the machine can handle the amount of laundry you have to do on a regular basis. A drum capacity of 5-6kg is ample for a couple of with limited laundry requirements. For a family of more you may need to look at something a bit bigger so a medium sized 7kg should be big enough. It may also have programmes to service smaller wash loads when the need arises. If you regularly launder your king size duvet covers then a 9kg drum capacity will be the answer. However, what you'll also need to bear in mind is that when tumble drying clothes you need more space and air inside the drum than the washing them. If you plan on tumble drying rather than hanging your laundry outside then you'll have to reduce your wash load to cope.
Spin Speed
Spin speed can make a huge difference to your final tumble drying time. The higher the spin speed the more water is removed before the appliance goes on to the drying cycle. Spin speeds range from 1,000-1,600 rpm and the higher the speed the more effective it is.

Energy ratings
An integrated or freestanding washer dryer with a high energy rating will save water and save you money on your fuel bills. To check the energy efficiency of a washer dryer take a look at the EU energy label which is graded from A-G with A being the most energy efficient. 'A+' models will be even more energy efficient but will naturally stretch your initial budget a bit more.

Versatility
Washer dryers are extremely versatile in that you can choose to wash your clothes only, or dry clothes that are already wet or do a full wash, spin and tumble dry without a break in between.

Convenience
A combined washer dryer means you don't have to unload the washing machine to wash and dry a small load as the cycle will start automatically thereby saving you time and effort. You also don't need to vent them with the waste water just being flushed through the waste water pipe.
Brand choice
At Dalzells of Markethill you can choose from our large retail selection of built-in and freestanding Washer Dryers from all major household brands such as Zanussi, Electrolux, Neff, Bosch, Siemens, Hotpoint and Miele all with the best deals available.
Delivery & Installation
Dalzells offer free delivery across Northern Ireland and within counties Lough, Monaghan and Dublin. See our website for full delivery information. For details on installation see our appliance connection page.