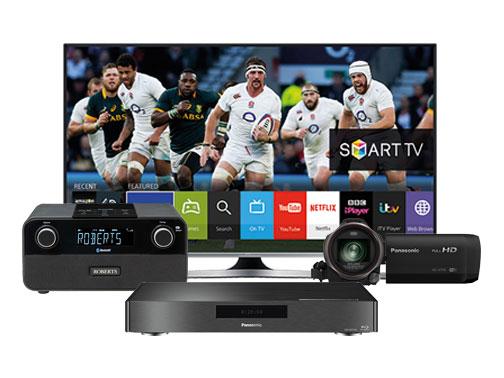 Choosing the right TV and home entertainment system for you very much depends on a number of factors – the size of your room, the kind of programmes you prefer to watch and probably most importantly of all, your budget. To help you decide, Dalzells have put together the following buyers' guide. Browse through it for some ideas and inspiration. Better still why not visit our retail store at Markethill? You'll find the biggest selection of TV's and entertainment systems in Northern Ireland and the Republic of Ireland from top household manufacturer brands such as Toshiba, Panasonic and LG all with the best deals available.
Which TV?
Modern TV's are truly astounding in terms of picture and sound quality. While the old saying 'you get what you pay for' still holds true you can pick up a fantastic quality TV with a huge range of features at a relatively low price. Especially at Dalzells. Here are a list of features to look out for.
Screen size
TV's are slimmer and more minimal in design than ever before. It's all about increasing your viewing pleasure and giving you a more immersive experience. Because of this most modern TV's have the thinnest of bezels (frame) which means you can fit a TV with a bigger screen size into the space you would previously have set aside for a smaller TV. The screen is measured diagonally from corner to corner so you'll probably find that a 50' TV can quite comfortably replace an older 42' version.
You also need to consider the room size and the distance you'll be viewing it from. For example if you're viewing from a distance of less than 1.5 metres then a TV screen of up to 32 inches is probably best. At the other end of the scale if you have over 3 metres to spare from the TV to your chair then you can enjoy a screen bigger than 55 inches. Of course this is just a guide and it ultimately comes down to your individual preference.
Picture quality
The clarity of the screen depends on the number of pixels it has. The higher the pixel count the clearer the picture will be.
Processing rate
This is how quickly the TV processes the changes from one image to another. The higher the processor the better your TV will capture fast paced action movies or sports.
4k Ultra v Full HD  
A 4k Ultra TV (3840p x 2160p) with 8 million pixels will have four times the number of pixels of a Full HD TV (1920p horizontally x 1080p vertically) which will have 2 million pixels. Many programmes are now filmed in 4k so if you want to plan for the future and have a bigger budget to spend then you may want to look at investing in one.
Smart TV's
Smart TV's will give you so much more in terms of entertainment options. By connecting to your home WIFI system you can browse the internet, stream movies from providers such as the subscription based Netflix and connect to other devices such as smartphones and tablets.
Sound
In-built TV speakers are perfectly adequate for most people however, if you want to enhance them you could invest in a separate sound system. A soundbar will give total clarity and sits discreetly in front of your TV. If you want to go for the total immersive cinema experience you can choose to invest in a full cinema system with separate speakers placed at strategic points around your room.
Blu-Ray and DVD
The perfect combination for total clarity is a Blu-Ray movie viewed on a Full HD or 4k Ultra television. Take a look at Dalzells range of Blu-Ray and DVD players to get the best from your home movie collection.   
Delivery & Installation
Dalzells offer free delivery across Northern Ireland and within counties Lough, Monaghan and Dublin. See our website for full delivery information. For details on installation see our appliance connection page.