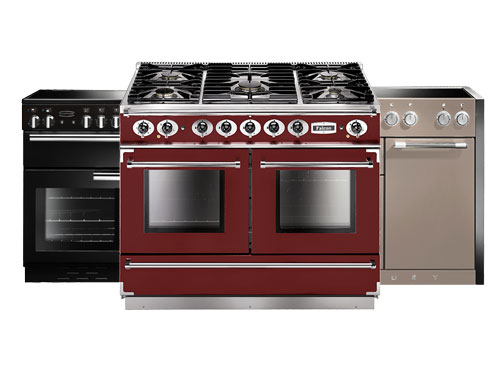 If you have enough space in your kitchen and love to cook then you may want to think about buying a range cooker. Range cookers not only take care of a large family meal, they provide a real focal point in your kitchen. If you're thinking of upgrading to a range cooker or replacing your existing one with a newer model take a look at the following range cookers buyers' guide prepared for you by Dalzells. Alternatively why not visit our retail store at Markethill? We'll give you the best advice, not to mention the best deals available in Northern Ireland and the Republic of Ireland. For range cookers think Dalzells.   
What type of range cooker?
People have been using range cookers for hundreds of years with the oldest ones being a simple hearth where families would keep a pot of soup or stew boiling away and some bread in the oven underneath. Being the largest domestic cooker available they provide more cooking zones and generally two ovens or more with more cooking space than a standard cooker. Some will even heat your water.
There are various makes and models of range cooker on the market today with hugely variable price tags. They vary from the traditional farmhouse style normally associated with an AGA or Rangemaster to modern sleek designs. At the top end of the scale we have Lacanche which is available in a variety of colours and favoured by top chefs such as Jean-Christophe Novelli. Here are some general descriptions of the variations of each to help you choose the one most suitable for you. We would recommend however, that you visit Dalzells for expert advice before buying. Dalzells retail range cookers from top manufacturers including Rangemaster, Stoves, AGA, Falcon, Zanussi, Hotpoint and Belling.