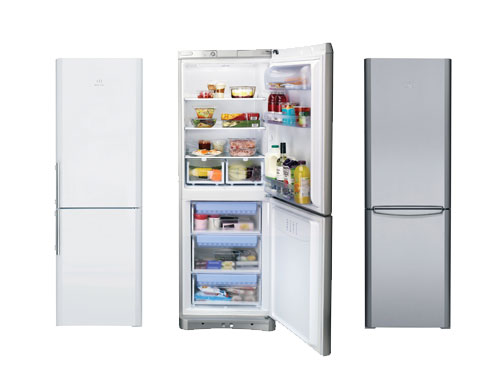 We live in a frantic world where free time is a precious commodity. It's important to make the most of it and unless you have a particular fondness for food shopping our guess is that you'd much rather be doing other things instead. This is where kitchen appliances such as fridge freezers are indispensable. Modern fridge freezers are intuitive. They keep your fresh produce and frozen food at a constant temperature to keep it fresher for longer. But which fridge freezer is the right one for your household? To help you make an informed choice about the right fridge freezer for your family's needs Dalzells have put together the following fridge freezers buyers' guide. Take a look at the sections below and then browse our selection of freestanding and built-in, otherwise known as integrated, fridge freezers online. Better still why not visit our retail store at Markethill for the best advice, not to mention the best deals available, in Northern Ireland and the Republic of Ireland? For fridge freezers think Dalzells.      
Which Fridge Freezer?
The beauty of a combined fridge freezer is that it saves you space. Most are upright with either the freezer compartment on top and the fridge section below or the other way around. If you tend to buy more frozen foods than fresh or make casseroles and other dishes in bulk for convenience then buying a freezer top model would probably be best. If you tend to go for more fresh produce than frozen then you may want to opt for a freezer bottom appliance.
A bigger family may want to consider a side by side, American style fridge freezer with double doors, equal sized fridge and freezer compartments, an ice maker and water dispensers. If you have a penchant for nostalgia then take a look at the range of retro style fridge freezers on sale from Dalzells. Dalzells of Markethill stock the biggest range of fridge freezers in N.I. and the Republic of Ireland from top household brand names such as Samsung, Zanussi, Stoves, Electrolux, Miele, Beko, LEC, Bosch, Siemens, Neff, Indesit, Hotpoint and Smeg.      
Freestanding v Integrated Fridge Freezer 
A freestanding fridge freezer can be placed anywhere there's a power socket and good ventilation. With the sleek designs and multiple colours available it's bound to be one of the main focal points of your kitchen. A built-in fridge freezer is hidden behind your existing kitchen cabinetry if you would prefer to keep the existing sleek lines and minimalist appearance. The choice is yours but whichever one you choose you can be sure that you'll get all the functionality you'll need.      
Frost-Free
Say goodbye to scraping your fridge freezer and keep it working as efficiently as possible with either a freestanding frost-free model or a built-in frost-free fridge freezer. The lack of frost build up means that your fresh fruit and veg won't suffer from 'ice burn.'

Popular Features
Fridge Freezers have many popular features such as fast freeze which is ideal when you bring your frozen food back from the supermarket and want to chill it quickly. It's also useful to quickly freezing your home cooked meals. Other features include optimum humidity which makes adjustments for the door opening constantly. There are also different compartments at various temperatures – some for meat and fish and another for fruit and veg. Visit Dalzells of Markethill for expert advice on the best fridge freezer for you.

Energy Efficiency
Fridge freezers are graded using EU energy ratings from A+ to A+++ and the running cost per year to help you manage your energy bills. You can estimate a fridge freezers annual running costs by multiplying kWh used by 0.1427 (the average national cost of electricity plus VAT). These costs of course may vary depending on your electricity supplier.  
Delivery & Installation
Dalzells offer free delivery across Northern Ireland and within counties Lough, Monaghan and Dublin. See our website for full delivery information. For details on installation see our appliance connection page.