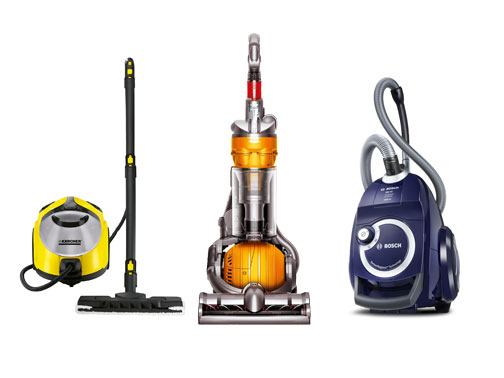 Anyone with a busy household will know how difficult it is to keep your flooring clean. But with dust being a major cause of allergies it's important to keep your carpets, lino and hardwood floors spic and span. Dalzells of Markethill retail a huge selection of vacuum cleaners including upright vacuum cleaners, cylinder vacuum cleaners and handheld vacuum cleaners from specialist manufacturers but which one is right for you? To help you choose Dalzells have put together this flooring buyers guide. Dalzells have a huge selection of vacuum cleaners with the very best deals available in N.I and the Republic of Ireland. Look online or visit our store and choose the right one for you from a range of specialist manufacturers including Dyson, Nilfisk, Bosch, Miele, Henry, Panasonic and Electrolux.   
Upright Vacuum Cleaners
Lighter than ever, energy efficient and most often bag-less upright vacuum cleaners have come a long way in recent years. They now have more capacity for collecting dust with hardly any loss of suction. Most are also Government approved for HEPA filtration which means they can collect and filter extremely small particles of dust which can cause asthma and other allergies. They also come with various attachments to clean everything from your floor to your curtains and sofas.        
Cylinder Vacuum Cleaners
Cylinder vacuum cleaners will do the same job as an upright vacuum cleaner and they also have a range of attachments to clean different surfaces. It may need emptied more often as it has a smaller dust storage capacity but is even lighter to carry around and can be stored in the smallest of cupboard spaces.
Handheld Vacuum Cleaners
Handheld vacuum cleaners are the most portable of all vacuum cleaners. They tend to be rechargeable and are perfect for clearing up small areas of debris or for cleaning work surfaces or blinds.
Steam Cleaners
A steam cleaner is the easiest way to remove dirt and grime from your hardwood floors, tiles, carpets and linoleum. Some can even be used to clean your laminate flooring. With a steam cleaner you don't have to buy detergent which saves you money and is better for the environment. A steam cleaner with attachments can be used to clean all sorts of 'hard to get to' areas such as the corners of work surfaces and grouting.
Delivery & Installation
Dalzells offer free delivery across Northern Ireland and within counties Lough, Monaghan and Dublin. See our website for full delivery information. For details on installation see our appliance connection page.