Electrical appliances vary greatly in terms of the amount of energy they use and are graded in terms of their energy efficiency with ratings from A to G with A being the most efficient. To find out more about energy ratings Dalzells have put together the following buyers' guide. Browse through it to find out more. Better still why not visit our retail store at Markethill? You'll find the biggest selection of energy efficient kitchen and domestic appliances along with TV and Entertainment appliances all with the best deals available in Northern Ireland and the Republic of Ireland.
Why should I consider energy efficient appliances?
Sometimes it's easy to focus on the initial outlay for an appliance without thinking about the ongoing running costs. However, if you spend a little more on an appliance with a higher energy rating whether it's a washing machine, fridge freezer or dishwasher, you should save money in the long run plus do your bit to help the environment.  
What should I consider when choosing energy efficient appliances?
The short answer is you should go for the appliance with highest energy efficient rating you can afford as it will pay dividends in the long run. Aim for an A graded appliance or A+, A++, or even A+++ for maximum energy savings.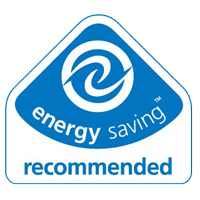 Always look for an appliance with an Energy Saving Trust logo which is an added assurance that the appliance you're looking to buy really is energy efficient. Dalzells of Markethill is an Energy saving Trust recommended retailer.
Points to consider when choosing energy efficient appliances
Cost vs value – We appreciate that everyone loves a bargain but instead of only thinking about the initial cost think about the savings in the long run and the value of the savings in the long run
Size – Make sure you have enough space to fit your new energy saving appliance before buying.
Energy consumption – Also check out the energy consumption information on each appliance which should be printed on it. This will help you work out your running costs.
Delivery & Installation
Dalzells offer free delivery across Northern Ireland and within counties Lough, Monaghan and Dublin. See our website for full delivery information. For details on installation see our appliance connection page.