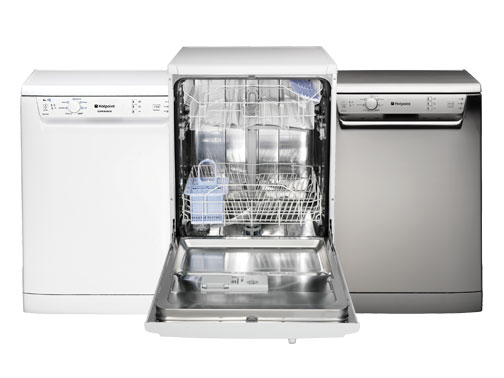 'You wash and I'll dry' is a phrase very rarely heard in the kitchen nowadays as dishwashers have increased in popularity over the past few years. The beauty of a dishwasher is that you can enjoy your meal, load up and forget about it until it's full then the only decision to be made is who's going to unload the clean dishes and put them away. To help you choose the right dishwasher to meet your household needs Dalzells have put together the following Dishwasher Buyers Guide. Take a look at the sections below and then browse our selection of dishwashers online. Better still why not visit our retail store at Markethill for the best advice, not to mention the best deals available, in Northern Ireland and the Republic of Ireland? For Dishwashers think Dalzells.      
Which Dishwasher?
Many of us are brand loyal. Maybe we've had a particular brand of dishwasher for a number of years so the natural thing to do when replacing your old dishwasher is to go for the same one. However, with so many extremely reliable, high quality dishwashers now on the market it's worth taking the time to look at other brands to get an idea which one is best for your household needs before choosing. The rule of thumb is to have a budget in mind first, decide what space you have to accommodate a dishwasher, whether freestanding, semi-integrated or built-in (fully integrated). If space is tight or you have a small household then a slim-line dishwasher or even a tabletop or drawer dishwasher could be the answer.
Freestanding v Semi or Integrated Dishwasher 
A freestanding dishwasher as its name implies can be positioned almost anywhere in a kitchen. All you need is access to a water unlet and outlet to plumb it up. Under a work surface and next to a washing machine is a popular position.
A semi-integrated dishwasher means that the control panel is the only section on view while the rest of the dishwasher is hidden behind your existing kitchen cabinetry. All the functions are the same as a freestanding dishwasher.
A Built-In, or as it's otherwise know, a fully integrated dishwasher is completely hidden behind your kitchen cabinetry to blend in with the surroundings to minimise the number of appliances on display. All the functions are the same as a freestanding or semi-integrated dishwasher.
Saves Time
Any appliance which helps save us time is well worth considering and a dishwasher is no exception. Big family occasions become easier when you can just cook, eat, enjoy the day and load up the dishwasher without the hassle of hand-washing.

Hygienic
A dishwasher has been proven to clean your dishes more hygienically than washing by hand. At temperatures of up to 70% the water is hot enough to kill bacteria and leave dishes sparkling.

Energy Efficient
Most dishwashers only use around 6 litres of water and are A plus energy rated so are better all round for the environment.
 
Delivery & Installation
Dalzells offer free delivery across Northern Ireland and within counties Lough, Monaghan and Dublin. See our website for full delivery information. For details on installation see our appliance connection page.