The Indesit Moon Washing Machine

The Moon series of washing machines from Indesit brings future friendly technology into the home.  Indesit have  combined innovative functions, simplicity, efficiency and design to obtain maximum results with the minimum effort.  Indesit is part of the Merloni group which includes other leading brands like Hotpoint, Creda, Cannon and Ariston.
Out Of This World Design
The Indesit Moon range of washing machines are instantly recognisable appliances in any electrical showroom or home.  They are truly icons of their time.  Crafted by Italian designer Giugiaro they are strikingly refined for a domestic appliance with their unique user interface and coloured doors.  The design is free from external fittings, it's innovative control panel is lit by blue LEDs and it has a unique coloured door which is available in several contemporary finishes.
Innovation – The Simplicity Revolution

Indesit's research into how people actually used their washing machines showed that on average, out of every 12 to 14 available wash programmes, only a maximum of four were actually used.  This highlighted a demand for a washing machine that could simplify programme settings.  Letting the washing machine choose the most suitable programme for each type of wash seemed to be the most practical solution.
One touch is all it takes to set programmes on the Indesit Moon thanks to it's revolutionary LED control panel and its ergonomic design – four special buttons for the  instant setting of any type of wash with one simple touch.
It also seemed bizarre to have the detergent drawer so far away from where the washing took place, this also caused waste and mess.  The Moon's unique self-cleaning dispenser inside the door delivers detergent and softener directlinto the heart of the wash giving up to 50% more cleaning power and leaves no waste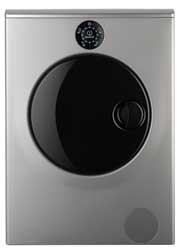 Performance
All Moon Series washing machines feature a 6kg Wash Load and a Spin Speed of 1400rpm as standard.  Once the programme has started, the Moon controls the wash using its Smart Solutions technology,  to guarantee the best wash results every time.   All programmes automatically regulate the wash temperature, wash intensity and spin speed for every type of fabric, this guarantees perfect results and protects even the most delicate garments.
The Variable Load function measures  how much laundry is loaded into the washing machine and calculates the optimal amount of water, energy and the length of wash.  Meanwhile the Moon's Internal Balancing System keeps vibration and noise to a minimum.
Sensors in the Moon also detect the levels of detergent during the wash cycle and calculate is there's a requirement for further rinse cycles, meaning an end to detergent residue on your clothes.
Wash Cycles
The Indesit Moon has a range of helpful features and cycles to help modern family a little bit easier.  These include a Rinse Only Cycle makeing it possible to simply rinse garments that previously could only be handwashed.  A Thirty Minute Fast Wash and an Easy Iron function are all designed to save you time on a daily basis.
Guarantee
The Indesit Moon like all Indesit kitchen appliances comes with a 1 Year Labour and 5 Year Parts Guarantee giving you added piece of mind to what is already a fantastic appliance.
A Range Of Colours
The Indesit Moon Series of Washing Machines is availabe in several different colours which includes:
Indesit Moon Silver/Blue SIXL145S
Indesit Moon Silver SIXL145D
Indesit Moon White/Silver SIXL145
Indesit Moon White/Black SIXL145K
What To Do Now…



To to view our full range of Indesit Washing Machines and accompanying Indesit Kitchen Appliances like Tumble Dryers Visit Us in-store today at Dalzell's of Markethill, your local Indesit Retailer in Northern Ireland.  We're conveniently located in Markethill on the main road between Armagh and Newry.  Or, Contact Us by email or phone to place your order today for the Best Deal, Unbeatable Service and Free Delivery of your new Indesit Washing Machine anywhere in Northern Ireland (from Belfast and Lisburn to Londonderry!) and to Counties Louth, Monaghan and Dublin in Ireland. We appreciate your business.