The Hotpoint NewStyle Collection Of Kitchen Appliances

A New Vision…
NewStyle from Hotpoint is a striking new contemporary range of Built-In Kitchen Appliances that combine smooth curves, innovative design and an exceptional finish. This new range offers outstanding quality and the latest features and advances in cooking technology. The perfectly co-ordinated Ovens, Hobs and Cooker Hoods are also available in a choice of stunning finishes to suit your kitchen and are easily add a dash of designer chic to any kitchen.
Like all Hotpoint Kitchen Appliances the NewStyle Collection of Built-In Appliances include a generous 5 Year Parts and 1 Year Labour Guarantee for added reassurance and complete peace of mind.
Hotpoint NewStyle Electric Ovens
There's a Hotpoint NewStyle Electric Oven for everyone and every kitchen,as the collection includes Single and Double Electric Ovens. The NewStyle range of Electric Ovens includes everything from Touch Control Displays and Intelligent Cooking Systems to a Pyrolytic Lining for easier cleaning and a SolarPlus Grill for faster cooking. The NewStyle Electric Oven Collection makes cooking easier and more enjoyable than ever before.
The Hotpoint NewStyle Single Oven Collection includes the SH103P, SH89PX, SH89P, SH83K, SH83CK, SH53X,  SH53K, SHS33X, SH33X, SH33W, SH33K and the SY23.
Meanwhile the Hotpoint NewStyle Double Oven Collection includes the DH99, DH93C, DH93, DHS53C and the DH53C.
What is Touch Control?
The pinnacle of sophisticated technology is at your fingertips with the NewStyle's Digital Touch Display, with it's easily navigable menus and hygienic wipe clean finish. This fantastic technology offers you total control while also being a pleasure to use.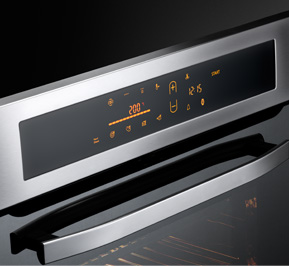 What is a Solarplus Twin Variable Grill?
NewStyle Ovens feature a rapid heating SolarPlus Grill which achieves its full heat strength in a mere 15 Seconds. This high speed allows for better grilling results as food loses less moisture during the cooking process due to the reduced duration. SolarPlus Grills are also 20% more efficient than a conventional grill and offer variable heat control and a twin grill option for added flexibility. This division in the grill also allows for greater energy efficiency.
What is a Pyrolytic Oven?
We all wish that our oven was as easily kept clean and shiny as the rest of your kitchen, with a Pyrolytic Oven it can be. Simply set the Fast Clean function, your NewStyle Oven's quadruple or triple glazed doors will automatically lock, the oven will heats to 500°C and will efficiently burns off all the fat and waste, leaving a small deposit of ash for you to simply wipe away. An added bonus is that this whole process costs less than 50p each time!
Intelligent Cooking System
With four Intelligent Cooking Programmes on Single Ovens and five on Double Ovens, you'll have all the ingredients you need to let the Oven do the work for you. Ever wanted a top chef to give you their professional help and expertise? Hotpoint have developed the next best thing… easy to use, Intelligent Electric Ovens that manage everything for you. From optimising the oven's elements, to recommending the shelf position, temperatures and cooking time, you can cook with a new found confidence with the NewStyle Collection of Electric Ovens.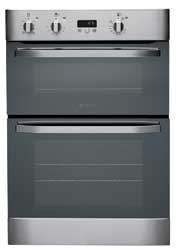 Examples of the Hotpoint NewStyles Intelligent Cooking Programmes includes:
Cake Cycles – A fully automated programme which sets the temperature and baking time for perfect results on sponge cakes, tortes and choux pastry. All precisely calculated and with no pre-heating time required.
Bread Cycles – A programme which delivers the optimum temperature and baking time for proving and baking bread.
Hotpoint NewStyle Gas and Electric Hobs
There's a Hotpoint NewStyle Hob to suit every need, style and kitchen requirement, NewStyle Hobs are available in Gas, Ceramic and Solid Plate variants. Thoughtful, innovative design features are obvious in NewStyle Hobs, especially in Hotpoint's latest Gas Hobs with Triple Ring Wok Burners, Double Ring Burners and Double Faced Burners.
The Hotpoint NewStyle Gas Hob Collection includes the GF750TX, GF761F, GF640X, GF640K, GF640W, G640SB, G640SK, G640SW, G640SX, G640X, G640B, G640K aG640S and the G750TX.
The Hotpoint NewStyle Ceramic Hob Collection includes the Ceramic CRM641 D C and the CRM641 D X
The Hotpoint NewStyle Solid Plate Hob Collection includes the E604K, E604W, E604X and the E604B.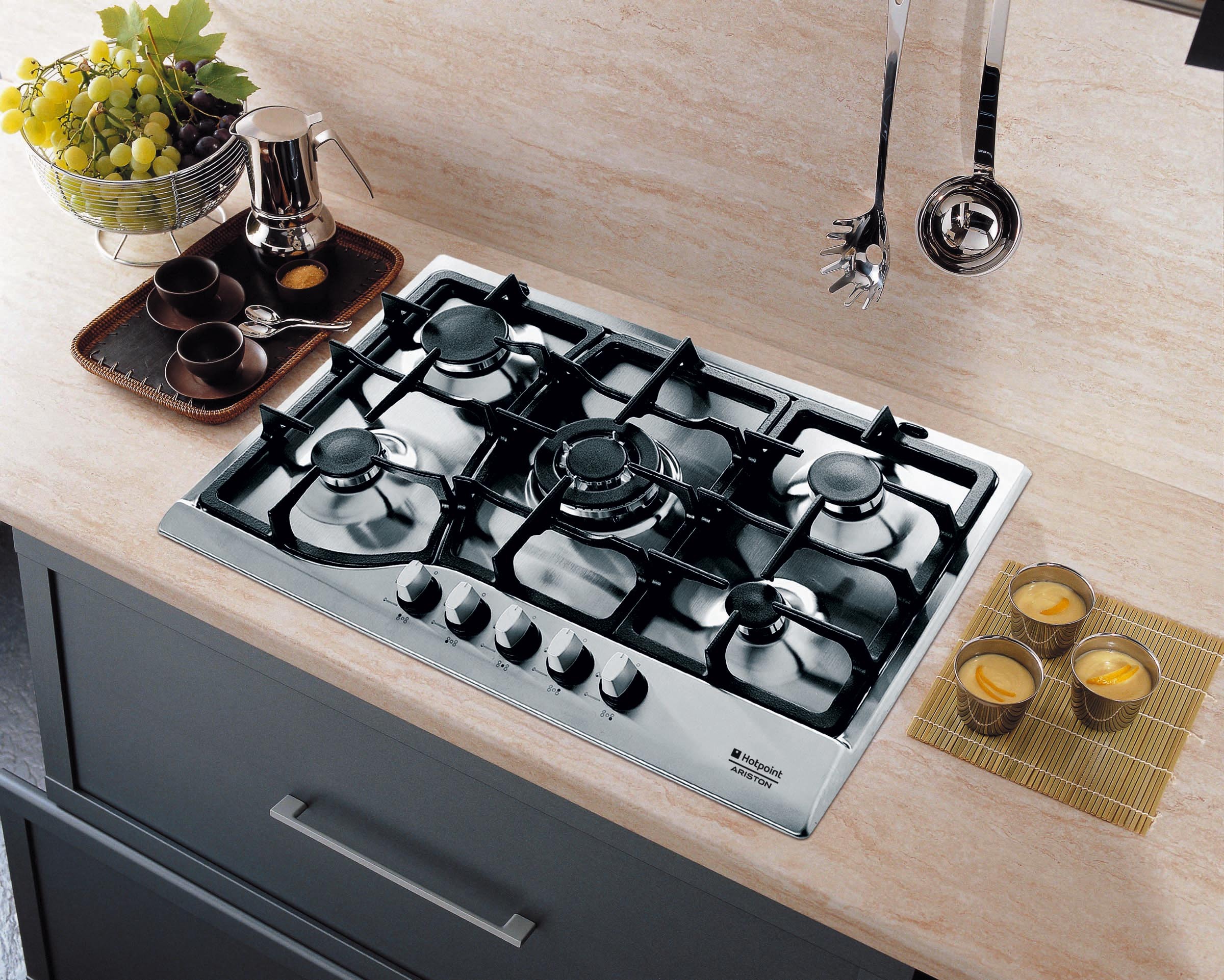 What is a Double Ring Burner?
This powerful Gas burner is capable of cooking what you want, how you want, quickly! This Double Ring Burner (a burner within a burner) can be easily regulated between 0.9 to 5.0kW offering wide ranging flexibility, from a small cafetiére to a large pan of boiling water.
What is a Triple Ring Wok Burner?
Working on the same principle as a Double Burner, the NewStyles Gas Hob's Triple Ring Wok Burner provides the power and heat for the perfect Chinese stir fry. This innovative triple ring optimises the power of gas cooking allowing for quick, uniform cooking and efficient heat distribution beneath the wok.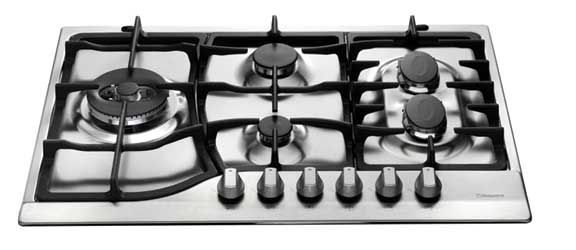 What is a Double Face Burner?
These rotating elliptical burners are usually are found in pairs on NewStyle Gas Hobs and can be used individually or together for powerful, even heat distribution beneath large cookware. They're especially convenient for fish kettles and griddles.
Hotpoint NewStyle Cooker Hoods
There is a NewStyle Hood for everybody, this is just a sample. To see the complete collection download our brochures with the links below, or scroll across for details on HS6E, HS7TIX, HSFX, HS9E, HS9TIX and HSD9E.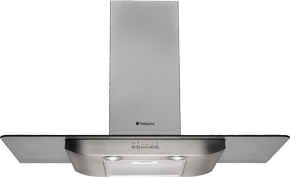 What is a Booster?
Hotpoint NewStyle Cooker Hoods feature a useful Boost Function to allow for a rapid increase in the extraction rate from 620m3/hr to a massive 780m3/hr for when you need extra extraction. Perfect for open plan living.
What is a Delay Timer?
The NewStyles clever Delay Function activates a timer which allows for continued extraction once you've finished cooking for 5 minutes before automatically switching itself off, resulting in a fresher kitchen for when you return.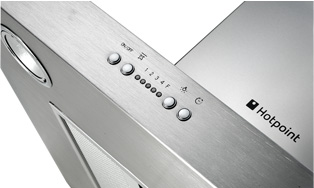 What is a Filter Alert?
Uniquely among Cooker Hoods, Hotpoint NewStyle Cooker Hoods feature a Filter Alert, warning light as to when the aluminium filter needs washing or the charcoal filter needs replacing. Making for a cleaner, more efficient kitchen to cook in and enjoy.
What To Do Now…
To view Hotpoint's NewStyle Collection of Kitchen Appliances and hundreds of other electrical products for your home Visit Us in-store today at Dalzell's of Markethill, your local Hotpoint Retailer in Northern Ireland. We're conveniently located on the main road (the A28) between Armagh and Newry and parking is free.  Or, Contact Us by email and/or call us for the Best Deal, Unbeatable Service and Free Delivery on your new Hotpoint NewStyle Kitchen Appliances anywhere in Northern Ireland (from Belfast and Lisburn to Londonderry!) and Counties Louth, Monaghan and Dublin in Ireland. We Appreciate Your Business!