LG Inverter Direct Drive Washing Machines
LG Washing Machines are amongst the most energy efficient washers on the market today.  With innovative features like the new Inverter Direct Drive they're consistently producing Superb Wash Results more quietly and for longer than ever before.  The new Inverter Direct Drive range of  washing machines are available in a choice of fresh new colours including Black, White and Silver, your utility room will never be the same.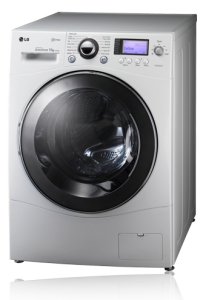 What Is The LG Inverter Direct Drive?
With open plan living becoming ever more popular our kitchen appliances have had to become ever quieter.  The LG Direct Drive is a massive step forward in achieving greater harmony in open plan areas. The major noise reducing factor in LG's new Washing Machines is the new Direct Drive motor.  Traditional washing machine motors have a lot of working parts that create friction and vibration. The Direct Drive, sometimes known as an Inverter Drive integrates the appliance's motor, belt, and pulley into a single mechanism which attaches directly to the drum.  This reduction in component parts results in increased stability and reduced friction resulting in a quieter, more durable appliance.
Traditional washing machines have a revolving brush in the motor and it is this that produces the whining sound during a spin cycle, Direct Drive motors don't have a revolving brush.  Apart from therefore being quieter, they also lose less energy and produce less dust.
A fantastic side benefit of this fantastic new drive system is an increased drum size as a result of the drives compact shape and reduced components, all of LG's Direct Driver Washers feature drums between 7 and 11Kg's in a conventional washing machine chassis.
10 Year Guarantee
Conventional washing machines wear out quicker than a Direct Drive washer due to their reliance on belts and pulleys. By replacing these and other components LG can provide the complete peace of mind that is a 10 Year Warranty on the Drive System.

Eco Friendly Appliances
All of LG's Direct Drive Washing Machines have a naturally Better Energy, Wash and Spin Performance than a traditional washing machine saving  time, money and the environment. In recognition of this LG's Direct Drive Washers have been endorsed by the Energy Saving Trust.
What to Do Now…
To view the latest LG Direct Drive Washing Machines including their new Steam Washers and for a full demonstration Visit Us in-store today at Dalzell's of Markethill, your local LG Dealer conveniently located on the main road between Armagh and Newry.  Or Contact Us by email and/or call us for the best deal and to place your order. Remember at Dalzell's we'll also give you Free Delivery on your new LG Washing Machine anywhere in Northern Ireland (from Belfast and Lisburn to Londonderry!) and in Ireland to Counties Louth, Monaghan and Dublin.