Markethill Wedding Fayre
Last Wednesday the inaugural Markethill Wedding Fayre was held in The Old Courthouse in aid of Newry Hospice. Organised by Sara Dalzell (Sara Dalzell Photography) and Sarah Jane Farrell (Vintage Violet Floral Designs), the event was a huge success for both exhibitors and visitors alike, not forgetting Newry Hospice who are to receive all proceeds of the event.
Dalzell's of Markethill proudly took our place among a wide range of exhibitors from across Northern Ireland that included; Alexander's of Markethill, Sara Dalzell Photography, Vintage Violet Floral Designs, It's Vintage Darling, Slimming World, Tracey's Cupcakes, Beauty Afayre, Blue Moon Videographer, The Old barn, Chocolate Blonde, Donna Mullan Headwear, Orchard Crafts, Little Letters, Creative Designs, McCrum Carriages, Bygone Cars and 'I do ' Cars to name but a few!
In addition, the Wedding Fayre also included a Wedding Fashion Show from a number of leading independent ladies and gents providers that included; Lily Pink, Payntor's Groomsware and Elody Brides with make-up by Sak Designs and music by DJ Robbie C. A big thank you naturally goes out to all the models and those from The Old Courthouse who provided complimentary tea and coffee to guests. The event was followed by leading magazine publisher Getting Married In Northern Ireland.
Newry Hospice
Sara Dalzell, granddaughter of our late founders Noel and Evelyn Dalzell came up with the idea for the event having witnessed at first hand the extraordinary work carried out by Newry Hospice when Noel was in their care late last year. Newry Hospice, a charitable organisation fulfills a gap in the local health care system not catered for fully by the NHS.
Newry Hospice is funded by more than 66% through private donations, many of those who work there do so as volunteers. It is a service that can not be fully appreciated until one has witnessed their work and compassion at first hand. The funds raised from the Wedding Fayre will undoubtedly be put to excellent use.
Newry Hospice was represented at the event by Hospice Volunteer Flo McCall, a former Deputy Principle of Markethill High School who had a range of Wedding Favours on display from the Hospice Shop in Newry. We look forward to announcing to you all soon just how much money was raised through the highly successful raffle which took place thanks to generous donations by exhibitors.
Getting Married In 2012?
If you are getting married in 2012 and you didn't catch us at the event be sure to check out our new Online Wedding Gift List Service or visit us in-store for more information. With our huge range of gifts, personal service and excellent prices your guests will be as delighted as you are when shopping for your special day.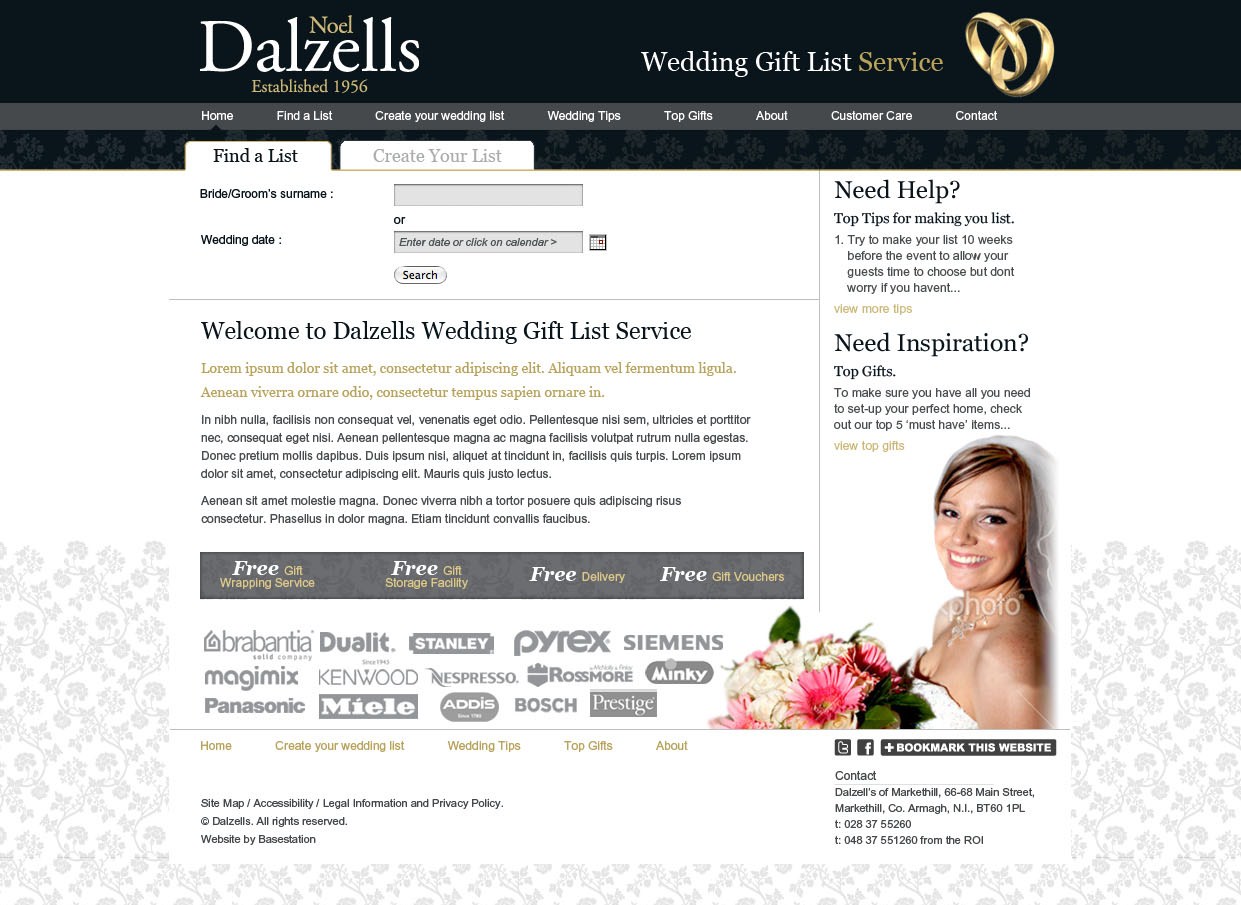 We Appreciate Your Business!