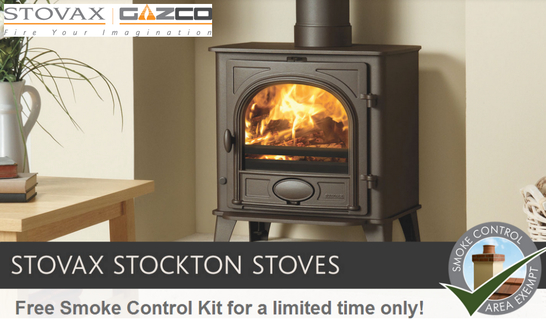 Stovax Stockton Stoves
Stovax Stockton Stoves are a magnificent addition to any home adding the warmth of a living flame, increased efficiency (up to 86%), convenience and superb styling that well be the talk of friends and add value to your home.
The Stovax Stockton Series of Mutifuel Stoves are approved for use in Smoke Control Area and are equipped with an Airwash, a Secondary Cleanburn and are available in a choice of 4 great finishes to suit your homes interior. What's more there's a wide range of styles and outputs to choose from!
As a HETAS Approved Retailer Dalzell's of Markethill are the natural choice with our knowledgeable, experienced staff and large display of Stovax Stoves.
Free Smoke Control Kit!
Purchase any of the qualifying Stovax Stockton Mutifuel Stoves shown below from us at Dalzells online, in-store or over the phone from us at Dalzells before June 28th 2013 and you'll receive a Free Smoke Control Kit!
When fitted to your new stove, these optional kits create the required burning conditions to meet UK Smoke Control Regulations for the burning of wood in these areas. If you're unsure as to whether you live in a smoke control area be sure to as us or your local council.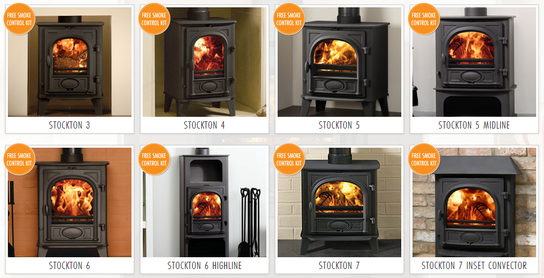 What To Do Now…
To take a closer look at our extensive range of Stovax Stoves, for expert advice from HETAS Accredited professionals and to take advantage of this excellent promotion Visit Us in-store today at Dalzells, your local Stovax Dealer in Northern Ireland. Markethill is on the A28 between Newry and Armagh and there's plenty of convenient free on-street parking. That's just a short 15 minute drive from Portadown and 20 minutes from Banbridge, Lurgan or Dungannon. You can of course just call us on 028 3755 1260 to place your order, request a quote or ask a question. Alternatively you can simply Email Us if that's easier. Whatever way you decide to do business with us at Dalzells you'll be guaranteed Expert Advice, a Top Deal (see our Price Promise), Unbeatable Value and Free Delivery of your new Stovax Stockton Stove or anything else your home may require throughout N.I. and Counties Dublin, Louth and Monaghan. We also deliver across the rest of Ireland at highly competitive rates, just ask!
We Appreciate Your Business!