Samsung Smart TVs
Samsung are undoubtedly the market leaders in Smart TV. With their superbly intuitive and flexible home screen accessing the latest Apps, Catch Up Services, Web Browsing, Emailing and Content Sharing between different devices through your TV couldn't be easier!
Step by step intuitive graphics graphics help liberate the most technophobic of us to new online freedoms with a Samsung Smart TV. What's more Samsung Smart TVs can be enjoyed by the whole family throughout the home by acting as a Digital Hub for a wide range of uses through a rapid DLNA Wi-Fi connection. 
A Samsung Smart TV will be the envy of your friends and relatives with its Vibrant High Contrast Colours and 1080p High Definition Picture, Voice and Motion Control Operation. It's also worth remembering that only Samsung Smart TVs boast the full range of Catch-up TV Services; BBC iPlayer, ITV Player, 4OD, Demand5, BBC News and BBC Sport.
Up To £300 Cashback!
Purchase Any Samsung Series 7 or 8 Smart TV from those listed below with a choice of of either Plasma or LED online, in-store or over the phone from us at Dalzells before August 21st 2013 and you'll receive Up to £300 Cashback! 
You'll receive your Samsung Cashback in the form of a cheque, treat yourself, the kids, the wife or blow it on a new Samsung Home Cinema System!
Qualifying Samsung Smart TVs
The following Samsung Smart TVs are included in this generous promotion and are in stock and available for Immediate Free Home Delivery or Collection from our stores:
Samsung Series 7000 Smart LED TVs: UE40F7000STXXU – £50, UE46F7000STXXU – £75, UE55F7000STXXU – £100 and UE60F7000STXXU – £150
Samsung Series 8000 Smart LED TVs: UE40F8000STXXU – £100, UE46F8000STXXU – £150, UE55F8000STXXU – £200, UE65F8000STXXU – £300
Samsung Series 8500 Smart LED TVs: UE46F8500STXXU – £200 and UE55F8500STXXU – £250
Samsung Series 8500 Smart Plasma TVs: PS51F8500STXXU – £100 and PS64F8500STXXU – £200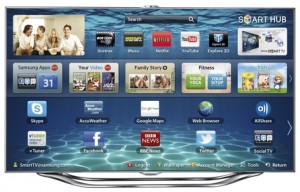 Having purchased and received your new Samsung Series 7 or 8 Smart TV from us at Dalzells simply download and complete the claim form available below and forward it with your receipt from us to the stated address and await your Cashback Cheque!
Samsung Smart TV Cashback Promotion – Click Here To Download
What To Do Now…
To take advantage of this excellent promotion and for a full demonstration of a Samsung LED or Plasma Smart TV  Visit Us in-store at Dalzells today, your local Samsung Retailer in Northern Ireland. Markethill is on the A28 between Armagh and Newry; a short 20 minute drive from Portadown or Banbridge, 25 minutes from Lurgan and a half hour from Lisburn. If you live a little further away (say Belfast or Dublin) or are to busy to visit you can simply place your order, request a quote or ask a few questions over the phone on 028 3755 1260 or by Email if you find that's easier again. At Dalzells we've more than 50 years of expertise in Home Entertainment and as the largest stockist of Samsung in N. Ireland you're assured Expert Advice, Unbeatable Value and Free Delivery across N.I. and Counties Monaghan, Louth and Dublin. Delivery is available throughout the rest of Ireland at highly competitive rates.
For a closer look at Samsung's Smart Technology check out our video below, enjoy!
We Appreciate Your Business!