The Rangemaster Toledo 110 & 90
The Rangemaster Toledo is on sale at Dalzell's of Markethill, Northern Ireland and Ireland's largest Range Cooker Stockist and Rangemaster Design Centre. Sophisticated, yet simple to use, the Rangemaster Toledo is every cooks dream range cooker. The Rangemaster Toledo is available as a 110cm & 9ocm model and with a choice of both Electric and Dual Fuel configurations for added choice and flexibility.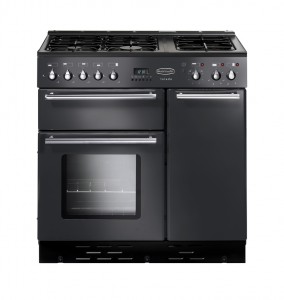 – Width 1100mm (Toledo 110) and 900mm (Toledo 90)

– Depth 600mm

– Height 898-925mm* Dual Fuel, 905-930mm* Ceramic & Induction

–

Available in a choice of Colours; Gunmetal Grey, Champagne, Stainless Steel, Silver and Gloss Black
*Adjustable feet
With its hard-wearing enamel hob, contemporary handles and ergonomically designed control knobs the Rangemaster Toledo 110 and 90 is an imposing yet stylish cooker. The gas hob models include two ovens, a triple-ring burner, a half-ribbed, half-smooth griddle, as well as a Separate Glide-Out Grill compartment. What's more, the ingenious silver paint finish option offers the sleek look of steel, without the need to polish away fingerprints and smears meaning it's a dream to keep clean too. Toledo 110 Range Cookers have the added convenience of an internal Storage Drawer for those every day cooking essentials. The Rangemaster Toledo differs in specifications from its nearest rival, the Rangemaster Professional Plus, only in having no-glide out grill pan and having a warming zone within it's hob. Independently tested by Which? Magazine the Rangemaster Toledo 110 has been awarded the Which? Best Buy for Range Cookers.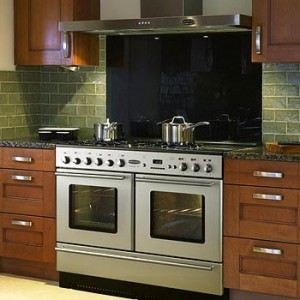 A Choice Of Fuel Types
The Rangemaster Toledo is available in a selection of fuel types for added convenience when planning your new kitchen. Both the Rangemaster Toledo 110 and 90 are available as Dual Fuel Range Cookers, Ceramic Range Cookers and Induction Range Cookers. The Dual Fuel Rangemaster Toledo Range Cookers have proved incredibly popular with the dedicated cook who prefers the feel and control of cooking on gas. Dual Fuel Toledo Range Cookers also boast the added functionality of a Cast Iron Griddle and Wok stand. Electric Rangemaster Toledo Range Cookers with Ceramic and Induction cook tops offer superb convenience, speed and easy cleaning for those who seek a more contemporary look to their kitchen. Induction Rangemaster Toldeo Range Cookers also offer superb safety and energy efficiency as a result of its electromagnetic cooking technology.
Huge Oven Space
All Rangemaster Toledo Range Cookers are equipped with 2 massive electric ovens. The Toledo 90 Range Cookers Series feature x2 A Energy Rated ovens, one a 69 Litre Conventional Oven with a Porthole Door, the other a 66 Litre Tall Fan Oven.
Meanwhile, the Rangemaster Toledo 110 Series similarly features x2 large ovens. Both ovens feature Porthole Doors, the left hand oven is a 67 Litre Conventional Oven, the other is 69 Litres Fan Oven. All ovens in Rangemaster Range Cooker feature Easy Clean Enamel Lining and a Programmable Clock with Minute Minder.
Induction Hob
Rangemaster Toledo Induction Range Cookers boast a rapid heating cook surface that is both easy cleaned and a pleasure to cook on. What's more the electromagnetic technology behind the Induction hob ensures superb energy efficiency and a child friendly cooking surface. The Toledo 110 and 90 Induction Range Cooker boast 5 Cooking Zones.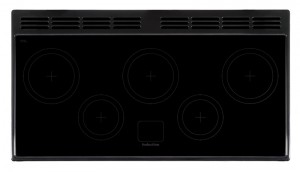 Ceramic Hob
Rangemaster Toledo Ceramic Range Cookers boast a rapid heating cook surface that is both easy cleaned and a pleasure to cook on. Rangemaster Ceramic Hobs feature a 'Hob Hot Indicator' for added safety.Toledo 110 Ceramic Range Cooker boasts 6 Cooking Zones while Toledo 90 Ceramic Range Cookers have 5 Cooking Zones.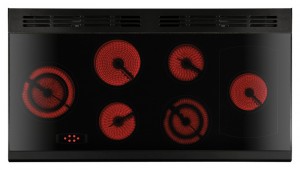 Dual Fuel & Gas Hobs
Rangemaster Toledo Dual Fuel and Gas Range Cookers boast a wide range of cooking surfaces for the committed cook. Toledo Gas Hobs feature stylish, durable matt black Cast Iron Pan Supports. Rangemaster Toledo 110 Range Cookers with a Gas Hob boast 4 Gas Rings, a Triple Ring Wok Burner (with Wok Cradle), a Ribbed Griddle and an integral Warming Zone. Gas hobs on Toledo 90 Range Cookers feature the same specifications as the Toledo 110 with the exception of the integral warming zone.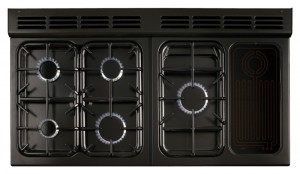 Range Cooker Accessories
A Range Cookers is are stunning appliances but they are never truly complete without an effective Chimney Hood and Splashback to whisk away kitchen odours and to maintain kitchen hygiene & cleanliness. Rangemaster offers a wide range of cooker hoods and spashbacks in different sizes, colours and styles to match your chosen Rangemaster Toledo.
What to Do Now…
To view the Rangemaster Toledo Range Cookers and for a full demonstration Visit Us in-store today at Dalzell's of Markethill, your local Rangemaster Retailer and Ireland's first Rangemaster Design Centre we're conveniently located on the main road between Armagh and Newry.  Or, Contact Us by email and, or call us to place your order today for the Best Deal, Unbeatable Service and Free Delivery of your new Rangemaster Toledo Range Cooker anywhere in Northern Ireland (from Belfast and Lisburn to Londonderry!) to Counties Louth, Monaghan and Dublin in Ireland. We appreciate your business.