£30 Cashback!
Panasonic are literally giving money away this season! Take advantage of the latest Panasonic Lumix promotion in-store and online at Dalzells to claim your £30 / €35 Cashback simply purchase a Lumix DMC-TZ10 slim travel camera between the 27th October 2010 and 19th January 2011. Treat yourself or someone close to you and capture the action this festive season. Be it the work Christmas party, a city break or the holidays themselves the  Lumix DMC-TZ10 form Panasonic is the ideal solution.

Panasonic Lumix DMC-TZ10
The Panasonic Lumix DMC-TZ10 Digital Camera is available in a range of stylish, vibrant colours including Red, Blue, Black and Silver.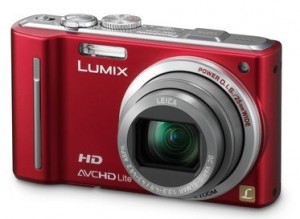 The Lumix DMC-TZ10 features is a 25mm Ultra Wide-angle 12x Optical Zoom (16x Intelligent Zoom) Camera with AVCHD Lite Movie Recording with GPS functionality.
The DMC-TZ10 is a 12.1 Megapixel Digital Camera and features a 25mm wide-angle 12x optical zoom f/3.3-4.9 LEICA DC VARIO-ELMAR lens (35mm camera equivalent: 25-300mm) in a compact case. This innovative 25mm wide-angle lens has nearly twice the shooting area of a standard 35mm lens. The powerful 12x zoom has the added ability of being used in motion picture recording. In 3-megapixel resolution mode, the Extra Optical Zoom function provides additional magnification to extend the zoom power to 23.4x by using the center part of the CCD.
Meanwhile, the Intelligent Resolution (I.R) Technology provides a high resolution look to digital zoom images as well as ordinary images.

The Panasonic Lumix DMC-TZ10 can also record HD movie in720P in AVCHD Lite with high sound quality of Digital Stereo Creator. Motion JPEG format is also available (1,280 x 720 pixels). When the DMC- TZ10 is connected to a Panasonic VIERA Television via an optional mini HDMI cable, in this situation the TV's remote control can be used to operate and organise the media files for greater convenience.
The Lumix DMC-TZ10 features a unique Travel Mode function with integrated GPS. When shooting, the photo location and local time information from the GPS is recorded within the photo file for easier reference.

The POWER O.I.S. almost doubles the hand-shake correction power allowing you to take beautiful night shots without blurring. Activating the POWER O.I.S., Intelligent ISO Control, Face Detection AF/AE with Face Recognition, Intelligent Scene Selector with Sunset Mode, Intelligent Exposure and AF Tracking ensures that the camera does all the work for you when in iA Mode. While Happy Mode optomises colour saturation and brightness for vicidly memorable pictures.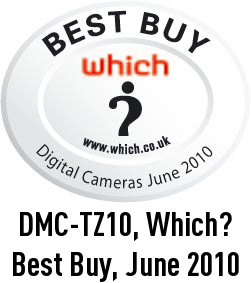 What To Do Now…
To take advantage of this fantastic Panasonic Lumix promotion and to collect your claim form Visit Us in-store at Dalzells in Markethill, your local Panasonic Retailer in Northern Ireland. We're conveniently situated on the main road between Armagh and Newry.  Or Contact Us by email and/or call us today to place your order and receive the Best Deal, Unbeatable Service and Free Delivery on your new Panasonic Lumix DMC-TZ10 Digital Camera anywhere in Northern Ireland (from Belfast and Lisburn to Londonderry!) and Counties Louth, Monaghan and Dublin. We Appreciate Your Business!