A Lacanche Christmas?
If you were thinking of preparing this years Christmas dinner in a Lacanche Range Cooker this festive season then like the Christmas cake and pudding you'll need to plan ahead by quite a few weeks! Such is the demand and the craftsmanship in these hand-built French Range Cookers that the normal 8 weeks delivery timetable has been extended and all Christmas orders must be placed by October 15th to avoid disappointment.
So if you were thinking, hoping or writing to Santa about a Lacanche Range Cooker this Christmas get your skates down to Dalzells and speak with our appliance experts and view our range of Lacanche Cookers on show today and order today!
Lacanche Range Cookers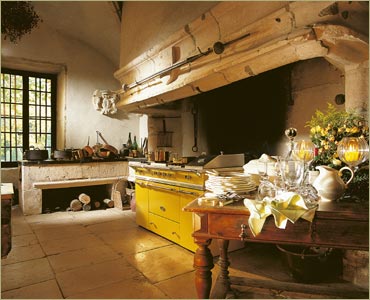 Established more than 200 Years ago in a foundry in the small village of Lacanche, deep in the Burgundy countryside in France, Lacanche has been manufacturing premium handcrafted Range Cookers ever since for both the commercial and domestic markets.
Apart from Lacanche's extraordinary heritage, what makes Lacanche Cookers so different from other range cookers on the market today, is that they are still built by hand to exacting standards by Expert Craftsmen to a customers specific order.
Lacanche Range Cookers are solid and built to last (ask our drivers, they have to deliver these 'substantial' appliances!) and offer years of service in even the most demanding of environments. With exquisite performance, clever innovations and extraordinary versatility Lacanche Cookers are as relevant in today's appliance market as they were 200 Years ago. In the words of Lacanche themselves 'They have a deliberate, implicit simplicity, making them simple to use and maintain'. Being custom built by hand they have an almost infinite variety of configurations combining the wide range of models with the various hob types, oven types, built in hob options, dual fuel options, shape and size. Perhaps what is most striking about Lacanche Cookers is their inherent individuality that can reflect the owners personality and style with more than 20 beautiful enamel finishes in addition to a Stainless Steel finish to choose from and four different trims.
What To Do Now…
To view our full range of Lacanche Forneaux de France Range Cookers and for a full demonstration Visit Us in-store today at Dalzell's of Markethill, your local Lacanche Retailer in Northern Ireland. We're conveniently located in Markethill on the main road between Armagh and Newry.  Or alternatively you can Contact Us by email or phone us to place your order today for the Best Deal, Unbeatable Service and Free Delivery of your new Lacanche Range Cooker  anywhere in Northern Ireland (from Belfast and Lisburn to Londonderry!) and to Counties Louth, Monaghan and Dublin in Ireland.
We Appreciate Your Business!