Samsung's new Eco Bubble Series of Washing Machines are now in-stock and on display at Dalzell's of Markethill. These impressive Washing Machines achieve outstanding wash results and save you money by washing at super low temperatures. What's more they come complete with a generous 5 Year Samsung Warranty.
How Eco Bubble Washing Machines Work…
With Samsung Ecobubble™ technology a unique Bubble Generator mixes air with water and detergent to form highly concentrated bubbles. The dedicated Bubble Generator so thoroughly dissolves the detergent that the bubbles penetrate fabrics almost instantly, up to 40 times faster than a highly concentrated liquid. The efficiency created by the Bubble Generator in the wash cycle means temperatures can be significantly reduced without compromising on wash results.  For example the Super Eco Wash operates at just 15°C using only 30% of the energy that a normal 40°C wash cycle with better wash results.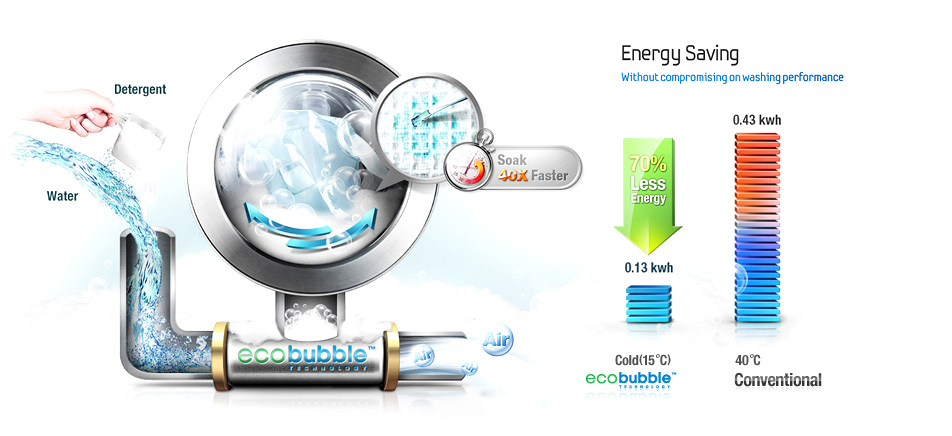 Samsung's Eco Bubble Technology also delivers superb fabric care protecting delicate fabrics as a result of the less mechanical action of the wash. The Samsung Eco Bubble Series also boasts an innovative Diamond Drum with smaller holes which help prevent fabrics  from snagging while the diamond shape cushions clothes for a longer life.
Ecobubble™ Washing Machines are perfect for open plan living due to their incredibly quiet operation at just 52dB. This achieved through the appliance's Vibration Reduction Technology (VRT™) which employs special sensors to keep the drum perfectly balanced at high spin speeds..
Samsung have also considered the  differing water across the UK and Ireland in a bid to create a Washing Machine with celebratory endurance. A Double Ceramic Coated Heater protects the appliance from a build-up of limescale, ensuring the heater lasts for up to 10 Years.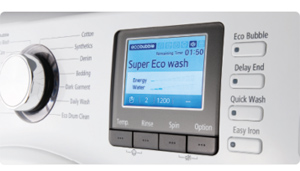 The larger capacity Samsung WF1124XAC also features an impressive easy-to-view LCD Colour Display that also provides live information on the energy and water consumption of each programme allowing you to make informed decisions.
Samsung WF1124XAC and WF0804X8E
The Samsung WF1124XAC and WF0804X8E Eco Bubble Washing Machines are both available to purchase online, on the phone and in-store at Dalzell's of Markethill. Our price includes Free Delivery across Northern Ireland and Counties Louth, Monaghan and Dublin in Ireland. We'll even 'Collect and Recycle' your old appliance for Free provided it is disconnected and outside your home. Remember, these appliances includes a Free 5 Year Samsung Warranty!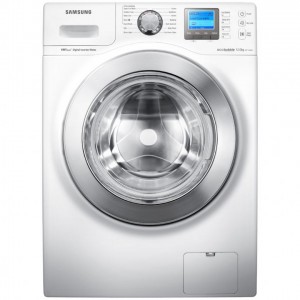 What To Do Now…
To view our full range of Samsung Kitchen Appliances Visit Us in-store today at Dalzell's of Markethill, your local Samsung Retailer in Northern Ireland. We're conveniently situated on the main road between Armagh and Newry, just 1 Hour from Dublin and 45 Minutes from Belfast.  Or alternatively you can Contact Us by email and/or call us for the Best Deal, Unbeatable Service and Free Delivery of your new Samsung Washing Machine or any other appliance your home may require anywhere in Northern Ireland and Counties Louth, Monaghan & Dublin in Ireland (competitive delivery rates across the rest of the UK and Ireland).
If you wish to learn more about washing Machines before getting in contact with us why not consider our helpful Washing Machine Buyers Guide. Or, alternatively you can view our Samsung Eco Bubble Washing Machine video below. Enjoy!
We Appreciate Your Business!