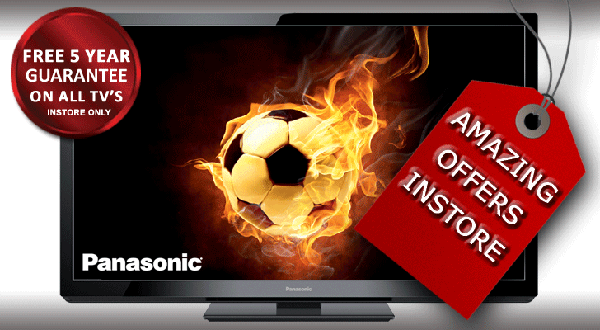 Exclusive 5 Year Warranty
Great news! Until further notice ALL Panasonic TVs purchased in-store, online or on the phone from Dalzells will come complete with a Full 5 Year Warranty!
This offer is available Exclusively At Dalzells, it is not available in multiples and other independents.
Panasonic LED, LCD and Plasma TVs
Panasonic TVs are feature rich, effortlessly stylish, intuitive and superbly reliable. Indeed no other major Television manufacturer but Panasonic would have the confidence to provide a 5 Year Warranty on their TVs. So whether you're shopping for a large screen Neo Plasma 3D TV or a smaller LED or LCD TV for your kitchen or bedroom a 5 Year Warranty will give you superb reassurance in your purchase.
Some of our latest Panasonic TVs on Promotion include:
What To Do Now…
To view our full range of Panasonic TVs and for a full demonstration of the latest Home Entertainment technology including 3D Visit Us in-store today at Dalzell's of Markethill, your local Panasonic Retailer in Northern Ireland. We're conveniently located in Markethill on the main road between Armagh and Newry. Or alternatively you can Contact Us by email or phone to place your order today for the Best Deal, Unbeatable Service and Free Delivery of your new Panasonic TV or any other Panasonic appliance like a Blu-Ray Player or Home Cinema anywhere in Northern Ireland (from Belfast and Lisburn to Londonderry!) and to Counties Louth, Monaghan and Dublin in Ireland.
Check out our Panasonic video below for a quick insight into the latest Panasonic Internet Connected Viera Smart TVs, Enjoy!
We Appreciate Your Business!