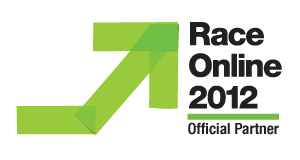 Race Online 2012 is a government backed initiative whose sole aim is to inspire, encourage and support millions more people to get online by the end of the Olympic year 2012 through partnership with government, industry, charities and individuals.
Why Is Getting Online So Important?
As an Electrical Appliance Retailer Dalzells know better than most as to why technology and the internet are so important.  Today technology links us together like never before, email, digital television and surfing the web opens up ever greater opportunities on a near daily basis.  The UK currently has 40 million adult internet users, with 30 million people using the web every day for work and pleasure. There are however more than 10 million adults in the UK who have never used the internet.
Four million of those are among the most disadvantaged in our society :
39% are over 65

38% are unemployed

19% are families with children.
As government services and business moves increasingly Online it's become ever more important for us to do likewise. Independent research conducted for Race Online 2012 has shown that for a single person the annual financial savings of being Online is a whooping £560 a year, even for the poorest families in the UK the annual saving is believed to be close to £270 a year.  Apart from this there is a tangible level of social exclusion from not being Online.
Our Race Online 2012 Partner Pledge
As a Race Online 2012 Partner Dalzell's of Markethill has undertook a commitment to ensure all our staff are fully internet literate by 2012 to a level that benefits their private life and productivity at work.
We also plan to run a series of training sessions for those customers purchasing internet enabled TVs who are unfamiliar with email, internet browsing and accessing local services Online.  These customers will be invited for a free tutorial with one of our highly trained staff in-store to address these three basic components of internet use.
It's our hope that this pledge, along with hundreds of others across the UK will help achieve the goals of Race Online 2012. To learn more about Race Online 2012 and the importance of achieving a n online society watch our video below.