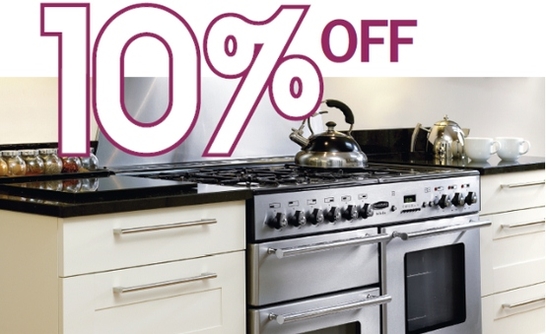 Rangemaster Range Cookers
Rangemaster Range Cookers are the market leading choice in the UK and Ireland. Having established the very concept of the Range Cooker more than 200 years ago they have continued to evolve with new models, styles and technology. 
Rangemaster Range Cookers are available with both contemporary and tradition styling. A choice of sizes to suit any home with  90cm, 100cm and 110cm formats. Induction, Ceramic, Gas and Dual Fuel configurations in addition to a host of Colours and Trims provide owners with the opportunity to personalise their appliance. What's more, all Rangemaster Range Cookers  come complete with a reassuring 2 Year Warranty for added peace of mind.
At Dalzells we offer customers the unique opportunity of  viewing the largest display of Rangemaster Range Cookers in Ireland with more than 50 on show and several hundred in stock. In addition, as Northern Ireland's Rangemaster Design Centre we can provide expert advice and the very best deals.
Rangemaster Toledo and Classic
The Rangemaster Toledo boasts attractive contemporary styling, 2 Large Ovens with an A/A Energy Rating, Browning Element, Handyrack, a dedicated Dual Circuit Electric Grill and a Storage Drawer for added flexibility. The Hob on the Dual Fuel model meanwhile has superb capacity with the 110cm version benefiting from 4 Gas Burners, a Wok Cradle and a Ceramic Warming Zone – The 90cm alternatively has 4 Gas Burners and a central Wok Burner. Where as both the Induction and Ceramic models (90 and 110cm) have 5 Cook Zones, Hob Hot Indicators and Automatic Pan Recognition in the case of Induction models.
The Rangemaster Classic on the other hand boasts traditional styling with almost identical specifications and capacities as the Toledo described above.
The Rangemaster Toledo and Classic is available in both 90cm and 110cm formats. Dual Fuel, Ceramic and Induction configurations (also Gas in the case of the Classic) and a choice of 5 colours with the Toledo in Stainless Steel, Gloss Black, Silver, Gunmetal Grey and Champagne. The Classic in Cranberry, Regal Blue, Gloss Black, Cream, White and Racing Green. Furthermore, the Dual Fuel Toledo has the added option a Glass Lid.
*All Induction and Dual Fuel Rangemaster Range Cooker have been accredited by the Energy Saving Trust Recommended Scheme for their superb energy efficiency. 
10% Rangemaster Discount
Purchase Any Rangemaster Toledo or Classic Range Cooker online, in-store or over the phone from us at Dalzells before June 14th 2013 and you'll receive a 10% Discount of our already famously low prices!
This fantastic promotion applies to any configuration of either the Rangemaster Classic or Toledo Range Cookers; Dual Fuel, Ceramic and Induction, 90cm or 110cm and an exciting range of Colours and Trims.
What To Do Now…
To view our extensive selection of Rangemaster Cookers and for a full demonstration of their many features Visit Us in-store day at Dalzells, your local Rangemaster Dealer in Northern Ireland. Easily accessible on Markethill's Main Street, just off the A28 between Armagh and Newry, a short 20 minutes drive from Banbridge, 30 minute drive from Lisburn and an hour from either Belfast or Dublin. You can of course simply call us on 028 3755 1260 if you'd prefer to place your order, request a quote or seek some advice that way or by Email if you so choose. As a local family business you can feel confident of receiving the Best Deal, Unbeatable Value and Free Delivery of your new Rangemaster Range Cooker or anything else your home may require throughout N.I. and Counties Dublin, Louth & Monaghan. What's more we offer highly competitive delivery rates across the rest of Ireland.
We Appreciate Your Business!