Neff Buit-In Appliances
Neff Built-In Appliances are renowned for their superlative quality in design, build and function. The Neff brand also benefits from an envious heritage as the pioneer of Built-in or integrated appliances as they are also known and come complete with a full 2 Year Warranty for total peace of mind.
Neff continue to lead and innovate in the kitchen with their new products such as Hide & Slide Ovens and their 'Bake It Yourself' campaign which has led to a national resurgence in traditional baking with a contemporary twist through the spin of TV show.
Here at Dalzells we stock and display the largest selection of Neff Kitchen Appliances anywhere in Northern Ireland and as a Neff Accredited Appliance Retailer we're able to bring our customers Huge Discounts and Exclusive Promotions.
Free Neff Gifts!
Purchase a qualifying Neff Appliance from us online, in-store or over the phone from us at Dalzells from one of the 3 offers listed below before September 30th 2013 you'll receive a Free Neff Gift! 
OFFER 1 – Free QuickConnect Shelf Supports With 1 Pair Of Telescopic Rails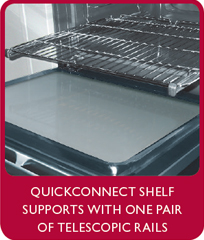 Qualifying Neff Oven Models: B45C52N3GB, B45E52N3GB, B45M52N3GB and B44M42N3GB 
OFFER 2 – Free Pair of Telescopic FlexiRails Plus A Non-stick Baking Tray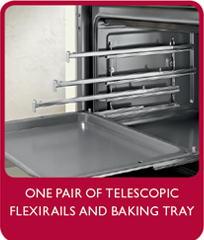 Qualifying Neff Oven Models: B46C74N3GB, B46E74N3GB, B46E54N3GB, B45E54N3GB, B45E74N3GB and B45M54N3GB
OFFER 3 – Free Warming Drawer Plus Offer 1 or 2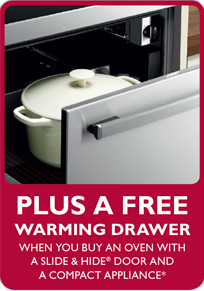 Qualifying Neff Oven Models: B46C74N3GB, B46E74N3GB, B46E54N3GB, B45E54N3GB, B45E74N3GB, B45M54N3GB, B45C52N3GB, B45E52N3GB and B45M52N3GB
Qualifying Neff Compact Appliances: C47C62N3GB, C47C22N3GB, C47D22N3GB, C17E54N3GB, C67P70N3GB, C67M70N3GB, C57M70N3GB, C57W40N3GB, C77V60N2GB and C65M63N1GB 
For further details on this excellent promotion why not download our helpful flyer below.
Neff Free Gifts Promotion Leaflet – Terms & Conditions
*This promotion is exclusive to Dalzell's of Markethill in Northern Ireland
What To Do Now…
So if you're planning a new or upgrading an existing kitchen with Neff Appliances this Autumn or Winter be sure to speak with and Visit Us in-store at Dalzells today. There you'll receive a full demonstration of the latest offering of Neff Appliances and be able to take advantage of this excellent promotion, at your local Neff Dealer in N. Ireland. Reaching us is easy, you'll find Markethill on the A28 roughly half way between Armagh and Newry; a short 15 minute spin from Portadown, 20 minutes from Lurgan, Dungannon or Banbridge, a half hour from Lisburn and under an hour from both Belfast and Dublin by way of the A1 bypass at Newry. If you live a little further away you can also order, request a quote or ask questions over the phone with us on 028 3755 1260 or by Email if that's easier still. At Dalzells we've nearly 60 years of electrical expertise, as such we truly appreciate your business. With us you're assured Expert Local Advice, Unbeatable Value and Free Delivery throughout Northern Ireland and Counties Monaghan, Louth and Dublin. Delivery across the rest of Ireland is readily available at a highly competitive rates, just ask us. Euros are always welcome too at great exchange rates.
We Appreciate Your Business!