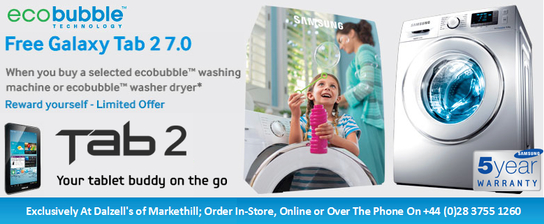 Samsung Ecobubble
Samsung Home Appliances are among the most technologically advanced on the market today with innovative approaches to age old tasks. What's more despite the application of the latest technology Samsung's most advanced appliances are incredibly intuitive to use. Stylish, efficient and durable with an incredibly generous 5 Year Warranty.
Samsung Appliances are an attractive proposition to the thoughtful shopper. At Dalzells we're a big fan and as the Largest Samsung Retailer in Northern Ireland we can deliver Extensive Additional Discounts and Exclusive Promotions.
Free Galaxy Tab 2.0 7 
Purchase Any Samsung Ecobubble Washer Dryer or Washing Machine online, in-store or over the phone from us at Dalzells before August 4th 2013 and you'll receive a Free Galaxy Tab 2.0 with a 7″ Screen!
Enjoy the freedom and entertainment that comes with tablet computing with this superb gift. Or give at as a birthday or Christmas present later in the year to a special someone and share the joy.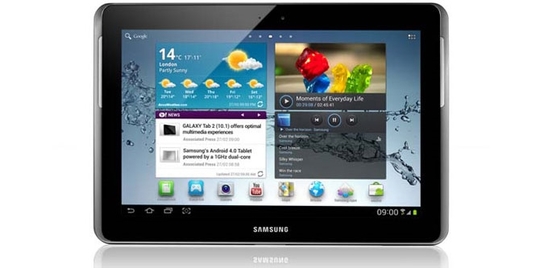 To claim your Free Galaxy Tab simply download and complete the claim form available below when you've purchased and received your new Samsung Ecobubble Appliance and forward it with your receipt to the stated address and await this truly amazing Free Gift!
Samsung Ecobubble Promotion – Click Here To Download!
Qualifying Samsung Ecobubble Appliances
The following Samsung Ecobubble Washer Dryers and Washing Machines are included in this fun promotion, they are in stock and available for immediate Free Home Delivery or Collection from our stores:
Samsung Ecobubble Washing Machines: WF1802WFWS, WF80F5E0W2W, WF80F5E2W4W, WF80F5E5U4W, WF80F5E0W4W, WF80F5E2W4X, WF80F5E5U4X, WF80F7E6U6W, WF80F7E6U6X, WF0806X8N, WF90F7E6U6W, WF906U4SAWQ, WF1114XBD, WF1124XAC and WF1124XAU
Samsung Ecobubble Washer Dryers: WD0804W8E, WWD906U4SAGD and WD806U4SAGD
What To Do Now…
Samsung Ecobubble Laundry Appliances are a superb investment that will save you time and money through efficiencies while caring for your clothes, a Free Galaxy Tab makes it simply too good to miss. So why not Visit Us in-store today at Dalzells for a full demonstration and to take advantage of this excellent promotion here at your local Samsung Dealer in N. Ireland. Reaching us is easy, we're just of the A28 between Armagh and Newry; a short 15 minute spin from Portadown, 20 minutes from Lurgan, Dungannon or Banbridge. If you live a little further away you order, seek a quote or ask questions over a chat with us by calling 028 3755 1260 or even by Email. At Dalzells we've more than 50 years of expertise in kitchen appliances and as such we truly appreciate your business. With us you're assured Expert Local Advice, Unbeatable Value and Free Delivery throughout N. Ireland and Counties Monaghan, Louth and Dublin. Delivery across the rest of Ireland is readily available at a most competitive rate and Euros are always welcome in-store.
To learn more about what makes Samsung Ecobubble Washing Machines and Washer Dryers so special watch our informative video below.
We Appreciate Your Business!