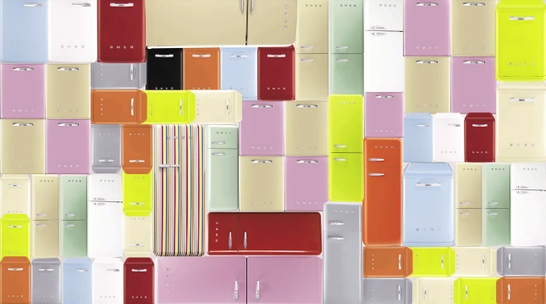 Smeg Tetris
Hope you all enjoyed your Bank Holiday Monday! We did and we're still in the mood for a bit of fun, I came across the Smeg Tetris image above the other day; Bright, inventive and fun it embodies what Smeg Retro Appliances are all about.
With an ever expanding range of colours, formats and now an A+++ Energy Rating they'll lift you heart and home Bank Holiday Monday or not. 
Smeg Retro Appliances
Smeg Retro Appliances now include Washing Machines, Dishwashers and Gas Fires in addition to their famous Retro Fridges, Retro Freezers and Retro Fridge Freezers. 
At Dalzells we stock an extensive range of Smeg Retro Appliances at highly competitive prices with the FAB28, FAB30, FAB32 and FAB50 amongst the most popular.

What To Do Now…
Call 028 3755 1260, Email or Visit Us in-store today to discuss your requirements, ask a question or place your order with us at Dalzells, your local Smeg Retailer in Northern Ireland. The best deals are always achieved in-store face to face where you will also benefit from helpful, expert advice from our team and the ability to view our display Smeg Appliances before you buy – No flicking through catalogues here! Markethill is just off the main A28 between Armagh and Newry, just 30 minutes from Lisburn or Banbridge, 45 minutes from Belfast and an hour from Dublin by way of the A1 bypass. At Dalzells you're guaranteed Unbeatable Service and Free Delivery of your new Smeg Appliance or anything else your kitchen may require throughout N.I. and Counties Dublin, Louth and Monaghan with highly competitive rates across the rest of the UK & Ireland.
For a closer look at Smeg Retro Refrigerators check out our fun video below, I bet you'll be humming by the end of it!
We Appreciate Your Business!