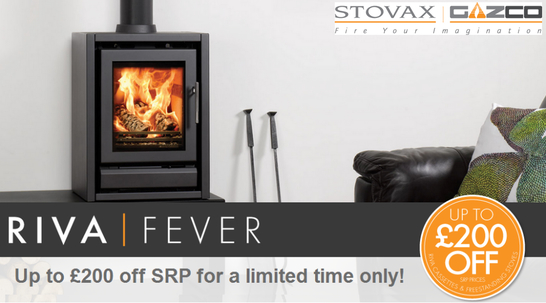 Stovax Multi-fuel Stoves!
Stovax is the largest manufacturer and distributor of Stoves and Fires in the UK, with more than 30 years of expertise they enjoy an enviable reputation. The Stovax Group includes a wide range of other brands including Gazco, Bosca, Wamsler, Yeoman and Dovre.
All Stovax Wood Burning and Multi-fuel Stoves come complete with a full 5 Year Warranty and with our expert HETAS Accredited Advisers you can have total confidence in your purchase from Dalzells.
Riva Fever – Up To £200 Off!
Purchase Any Stovax Multifuel Riva Cassette Or Stove in-store or over the phone from us at Dalzells before June 28th 2013 and you'll receive Up To £200 Off!
The Stovax Riva Series of Multi-fuel Stoves come in a wide range of contemporary styles and finishes to complement the widest range of modern home designs with their clean lines. The following Stovax Riva Stoves are included in this promotion and available from Dalzells for immediate Free home Delivery.
Up To £100 Off: Riva F40 Avanti, Stovax Riva F40 Avanti Midi and the Riva F40 Avanti Highline
Up To £150 Off: Stovax Riva 40, Stovax Riva 45, Stovax Riva 50, Stovax Riva F40 Freestanding and the Stovax Riva F55 Avanti Midi
Up To £200 Off: Stovax Riva £55, Stovax Riva 66, Stovax Riva 76, Stovax F66 Freestanding, Stovax F76 Freestanding and the Stovax Riva 66 Avanti
What To Do Now…
To view our massive choice of more than 90 Multi-fuel Stoves and Fires including those from the Stovax Riva series and to take advantage of this not to be missed promotion Visit Us in-store today at Dalzells, your local Stovax Retailer in Northern Ireland. Located in Markethill, just of the A28 between Armagh and Newry, we'll ensure it's well worth your while and there's convenient free on-street parking. That's a short 15 minute drive from Portadown, 20 minutes from Banbridge or Lurgan and 25 from Dungannon. You can of course simply order with us over the phone, request a quote or simply request advice on 028 3755 1260 or even by Emailing Us if you so choose. What ever way you decide to do business with us you can be assured of a friendly local business that's dedicated to please with Expert Advice,  Super Deals, Unbeatable Value and Free Delivery of your new Stovax Riva Stove throughout N. Ireland and Counties Dublin Louth and Monaghan. For delivery throughout the rest of Ireland contact us for details of our highly competitive rates.
For more information about Stovax's full offering of Stoves and Fires check out our helpful video below, enjoy!
We Appreciate Your Business!