LG Smart TV
The LG offering of Smart TVs offer a near unlimited quantity of content through services like BBC iPlayer, You Tube and Apps like Netflix, Love Film and Acetrax among many others. What's more, LG Smart TVs allow easy access to Social Media channels like Facebook, Twitter, Pinterest, My Space and Flickr. Additional personal content can also be streamed and shared with friends through 'LG Smart Share' which allows seamless connectivity between your PC, Laptop, Tablet and other similar digital devices.
Of course you can just as easily browse the Internet through Google and do so through your clever LG Magic Motion Remote with Voice Recognition! You can also navigate your LG Smart TV through your Smart Phone through downloadable iOS and Android Apps for even greater convenience and control through the integrated Wi-Fi connection. 
Free £50 Acetrax Voucher!
Purchase ANY LG Smart TV in-store, online or over the phone from us at Dalzells before December 24th 2012 and you'll receive a £50 Voucher for Acetrax! 
The Acetrax Movie Service provides instant access to many 1000′s of on demand movies, documentaries and TV Series' from across the world through a streamed internet connection which also allows you to pause, rewind and access additional related content with the touch of a button.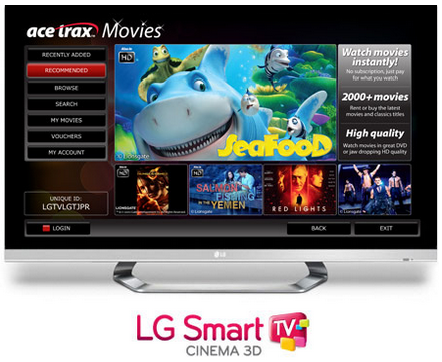 What To Do Now…
To view our full range of LG Smart TVs and for a full demonstration of them Visit Us in-store today at Dalzells, your local LG Dealer in Northern Ireland. You'll find us in the busy market town of Markethill on the A28 between Armagh and Newry, a short 30 minute drive from Lisburn and 45 minutes from Belfast and an hour from Dublin by way of the A1 bypass – There's plenty of free on-street parking next to the store. You can of course place your order or gain expert advice from our experienced team over the phone on 028 3755 1260 or by Email. What ever way you choose to shop with us you can be sure of the Best Deal, Unbeatable Value and Free Delivery of your LG Home Entertainment System or anything else your home may require throughout N. Ireland and Counties Monagham, Louth and Dublin with competitive rates available across the rest of the UK and Ireland.

We Appreciate Your Business!