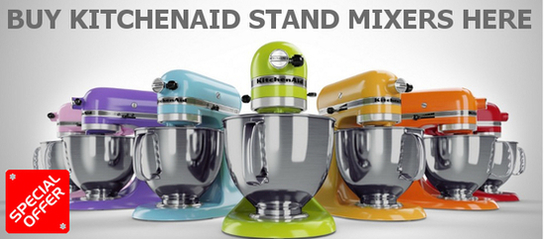 KitchenAid Artisan Mixers
KitchenAid Artisan Mixers have proved to be a huge success since their launch at Dalzells, given their handsome good looks, resilient full metal construction, powerful 300 Watt and planetary mixing action there'sample reasons to see why!
KitchenAid Artisan Mixers are the natural choice of the professional chef and adventurous home cook. With an ever expanding range of exciting finishes to choose from including the KitchenAid Raspberry Ice (5KSM150PSBRI), Yellow Pepper (5KSM150PSBYP) and Apple Cider (5KSM150PSBAP) there's a KitchenAid Artisan Stand Mixer to suit every possible kitchen style.
For added peace of mind, all KitchenAid Mixers come complete with an incredibly generous and reassuring 5 Year Warranty.
Free KitchenAid Glass Bowl
Purchase Any KitchenAid Artisan KSM150 Stand Mixer online, in-store or over the phone from us at Dalzells before April 7th 2013 and you'll receive a Free KitchenAid Artisan Glass Bowl (5K5GB) worth £61 to aid you in your culinary exploits!
The KitchenAid Glass Bowl has a 4.83 Litre capacity, Silicon lid, moulded pouring spout for easier pouring and easy to read ingredient quantity marks. For added flexibility the bowl is also dishwasher, freezer and microwave safe.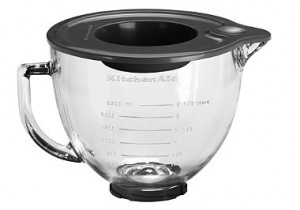 Having purchased and received your KitchenAid Mixer from us at Dalzells simply download and complete the claim form available below and forward it and a copy of your original receipt from us at Dalzells to the stated address and await your Free KitchenAid Gift!
KitchenAid Artisan Stand Mixer Promotion – Free Glass Bowl
*This promotion is exclusive to Dalzell's of Markethill in Northern Ireland
What To Do Now…
To take advantage of this excellent not to be missed promotion and to view our full range of  KitchenAid Kitchen Appliances Visit Us in-store today at Dalzells, your local KitchenAid Retailer in N. Ireland.  Markethill is just of the A28 between Armagh and Newry, there's ample free parking on the adjacent street and we'll make it well worth your while. We're just short a 15 short minute drive from Portadown, 20 minutes from Banbridge,  45 from Lisburn and an hour from Belfast. You can of course just as easily place your order over the phone, request a quote or ask us a question on 028 3755 1260 or even by Email if you so choose. Whatever way you decide to shop with us you're assured Expert Advice,  Top Deals, Unbeatable Value and Free Delivery of your new KitchenAid Food Mixer throughout N.I. and Counties Dublin, Louth and Monaghan. With delivery available across the rest of Ireland for just £7.99!
We Appreciate Your Business!