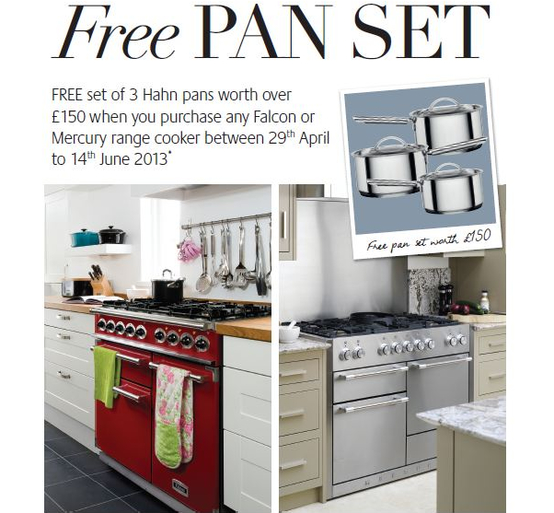 Falcon | Mercury Range Cookers
Falcon and Mercury are both part of the AGARangemaster Group and as such they exhibit the very best qualities of culinary engineering in Range Cookers.
Falcon Range Cookers has been regarded as the professional's appliance of choice for more than 75 years with celebrated chefs including the renowned Nick Nairn among its many fans. In addition to an exciting selection of Induction and Dual Fuel Range Cookers an extensive range of refrigeration, extraction, wine cooling, sinks, taps and accessories are also available. What's more, Falcon Range Cookers are available in a finish of your choosing with colours and trims to meet the most discerning interior.
Mercury Range Cookers are a bold statement in any kitchen with their innovative, defining features which when combined with outstanding quality and performance places Mercury Cookers as the culinary connoisseur choice. Hand crafted by skilled tradesmen in Leamington Spa where the latest technology is combined with unrivaled heritage and meticulous attention to detail to produce Mercury Range Cookers, the pinnacle of design, innovation and professionalism.
Dalzell's are the only Mercury Retailer in N. Ireland and boast the only Falcon Design Centre in the region.
Free Hahn Pan Set Worth £150!
Purchase Any Falcon or Mercury Range Cooker online, in-store or over the phone from us before June 14th 2013 and you'll receive a Free Hahn Pan Set worth £150!
The Free Hahn Pan Set is the perfect addition to your new Range Cooker and being of "ferous" construction their the perfect match for both Induction Range Cooker and Dual Fuel Range Cookers.
Having purchased and received delivery of your Mercury or Falcon Range Cooker from us at Dalzells simply download and complete the claim form available below and forward it to the stated address and await your fantastic Hahn Pan Set!
Falcon | Mercury Range Cooker Promotion – Click Here To Download
What To Do Now…
To view our full range of more than 50 Range Cookers in our extensive showroom and to take advantage of this excellent promotion Visit Us in-store today at Dalzells, your local  Mercury and Falcon Retailer in Northern Ireland. Being based in Markethill we're easily accessible being just of the A28 between Newry and Armagh, there's plenty of free on-street parking and it's just a 20 minute drive from Banbridge , 30 minutes from Lisburn and 45 minutes from Belfast and an hour from Dublin. You can of course just as easily place your order or request a quote from us over the phone on 028 3755 1260 or by way of a quick Email. Whatever way you decide to shop with us you'll be assured Expert Advice, the Best Deal (see our Price Promise), Unbeatable Value and Free Delivery of your Range Cooker or anything else you may desire for your kitchen throughout N.I. and Counties Louth, Dubin and Monaghan. Delivery across the rest of Ireland is available at highly competitive rates.
We Appreciate Your Business!