Dalzell's of Markethill have today joined the Love2Shop Retailer Network in Northern Ireland! Love2Shop is part of the High Street Voucher Group, one of the UK's largest voucher reward schemes with hundreds of thousands of people each year receiving reward vouchers from employers, retailers and competitions.
How Do I Use Love2Shop Vouchers?
Love2Shop Vouchers work for our customers in much the same way as cash and are available in £1, £5 and £10 denominations, simply hand them over at the point of payment in-store. Love2Shop Vouchers can be used to pay for all or part of the goods value chosen and can be used to purchase anything in-store from Kitchen Appliances and Home Entertainment to Multi-fuel Stoves and Gas Fires!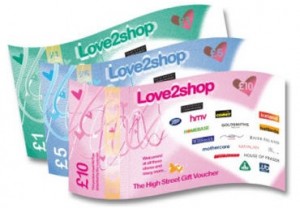 We look forward to seeing you in-store soon with your Love2Shop Vouchers. At Dalzell's we already accept Capital Bonds, if there's another voucher scheme you think we should get involved with why not let us know by getting touch!
We Appreciate Your Business!