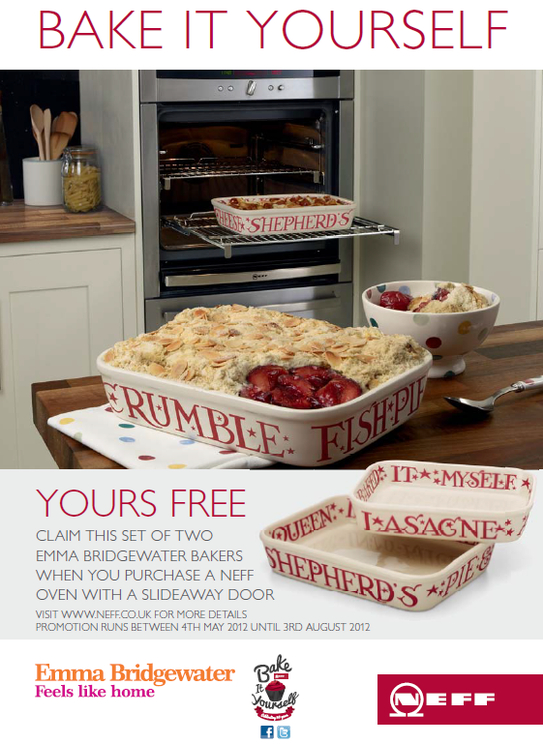 Neff Kitchen Appliances
Neff has an envious position in the Kitchen Appliances trade, having helped bring fitted kitchens to the masses nearly 40 years ago they still chart the course for the rest today. With a catalogue that now includes American Fridge Freezers, Range Cookers, Steam Ovens and Wine Coolers the needs of our ever changing kitchens are more than, catered for.
As an Accredited Neff Appliance Retailer we at Dalzells are proud to sport these fiendishly attractive appliances which never fail to impress with their understated elegance and magnificent build quality.
Exclusive Emma Bridgewater Bakers
In tandem with Neff's 'Bake It Yourself' campaign to get us all back Purchase any SlideAway Door Neff Oven in-store, online or over the phone from Dalzell's of Markethill before the 3rd August 2012 and you'll be graced with a highly attractive set of Emma Bridgewater Limited Edition Ceramic Bakers. Each set comprises of 1 medium and 1 large baking dish with a RRP £114.90.
These highly attractive dishes have all been made and decorated by hand in Stoke-on-Trent, in the heart of the potteries.
Qualifying Neff Appliances
The following Neff Ovens with a SlideAway Door are included in this fantastic promotion:
B46C74N0GB, B46E74N0GB, B45E74N0GB, B45C42N0GB, B45E42N0GB, B45M62N0GB, B45M42N0GB, B44M62N0GB and B44M42N0GB
What To Do Now…
To view our full range of Neff Built-In Appliances and for a full demonstration of their many features Visit Us in-store today at Dalzells, your local Neff Retailer in Northern Ireland. We're a short drive from Portadown and Banbridge on the main road between Armagh and Newry, it's even just 45 minutes from Belfast and an hour from Dublin which if you're after several appliances (which you will be if you're fitting a new kitchen) will be well worth the drive! Alternatively you can always Contact Us by email or place an order, ask question or gain advice by phone us on 028 3755 1260. Whichever way you'll receive Unbeatable Service and Free Delivery of your new Neff Appliances or anything else your Kitchen may require anywhere in N. Ireland and Counties Louth, Monaghan & Dublin in Ireland with competitive rates across the rest of the UK and Ireland.
We Appreciate Your Business!
Tags: Kitchen Appliances, Neff, Ovens, Promotions