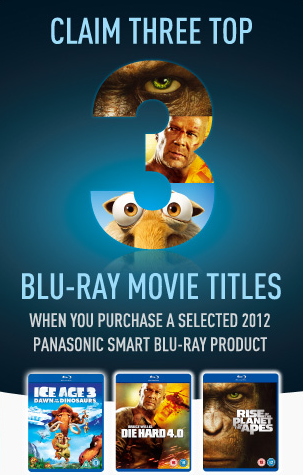 Panasonic Blu-ray Players & Home Cinemas
Panasonic Blu-ray Players and Home Cinema Systems are an essential ingredient to the perfect night in. Panasonic's latest range of peripheral entertainment devices can take you to a whole new world of entertainment and interaction. Panasonic Blu-ray devices give you outstanding picture with 2D to 3D Upscaling, 1080p Full HD and Dolby Digital Surround Sound quality which has been developed to the highest levels thanks to their close collaboration with top Hollywood studios.
What's more, the latest Panasonic Blu-ray devices can even be operated through your Smart Phone with the aid of Panasonic Android and iPhone Apps! And with DLNA Wireless Connectivity you'll be able to sync your Blu-ray devices activity with a range of other existing devices which when combined with access to the Internet through Panasonic's Viera Connect Service you'll be accessing an almost limitless level of content through the like of BBC iPlayer, NetFlix, You Tube and Facebook to name but a few!
3 Free Blu-ray Movies
Purchase any of the superb new 2012 Panasonic Blu-ray devices listed below between April 26th and July 31st and you'll also take home 3 Free Blu-ray Titles to bring more quality to those great nights in!
What To Do Now…
To view our full range of Panasonic Blu-ray Players, Home Cinemas, Smart TVs and for a full demonstration Visit Us in-store today at Dalzells, your local Panasonic Retailer in Northern Ireland. We're a short drive from Portadown and Banbridge on the main road between Armagh and Newry, it's even just 45 minutes from Belfast and an hour from Dublin which if you're after a Package Deal makes it well worth the drive! Or you can always Contact Us by email or phone us on 028 3755 1260 for Unbeatable Service and Free Delivery of your new Panasonic device or anything else your home may require anywhere in N. Ireland and Counties Louth, Monaghan & Dublin in Ireland (Competitive rates across the rest of Ireland and the UK). Remember at Dalzell's we have the buying power and know how to secure you the Best Deal every time, if in doubt take our Price Promise!

Tags: Blu-Ray Players, Home Cinema, Home Entertainment, Panasonic, Promotions