Franke Retailer
We at Dalzells may be Northern Ireland's largest independent retailer of kitchen appliances but up until recently Sinks and Taps hadn't been something that we had given much consideration, no longer though. We have of course held accounts with companies such as Franke that manufacture Sinks and Taps and indeed we did occasionally place orders for them but we never stocked and displayed them. We have this week though installed display units in-store for both Franke and Rangemaster Sinks and Taps.
Franke is a premium appliance brand based in Switzerland, established in 1911, they've been manufacturing sinks since 1925 and are now the world's leading manufacturer in this sector of the appliance trade. Known for their innovation, the humble sink has come away long way from its functional beginnings as a large wall fixed tub with a wood drainer. Franke has always at the forefront of design implementation in the manufacture of new styles, materials, colours and functions.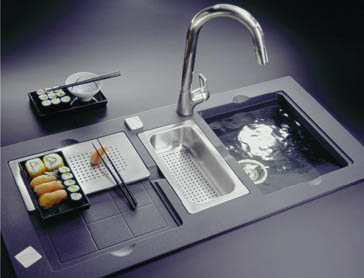 Franke Sinks And Taps
Franke has a huge range of Sinks and Taps with solutions that will meet the needs of every modern kitchen, each Franke Sink is available with either a left or right hand drainer in addition to being compatible with all major Waste Disposal Units. Such is the build quality of Franke Sinks that they come complete with a 50 Year Warranty against manufacturer defects.
Franke Taps are similarly capable and aesthetically pleasing, each Franke Tap comes complete with a 5 Year Warranty on the valve mechanism and a 1 Year Warranty on the finish.
What To Do Now…
To view our new display stand of Franke Sinks and Taps, in addition to our selection of Franke Cooker Hoods Visit Us in-store today at Dalzells, your local official Franke Retailer in Northern Ireland. We're conveniently situated on the main road between Armagh and Newry. Or Contact Us by email or call us on 028 3755 1260 for the Best Deal, Unbeatable Service and Free Delivery of your new Franke Kitchen Appliances anywhere in N. Ireland (from Belfast and Newry to Londonderry!) and Counties Louth, Monaghan & Dublin in Ireland (Competitive rates are available across the rest of Ireland and UK).
We Appreciate Your Business!