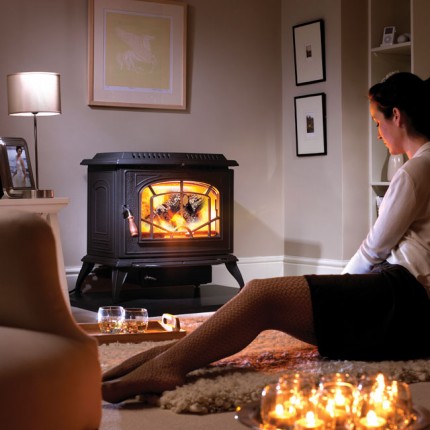 Lighting A Multi-Fuel Stove
Lighting a Multi-Fuel Stove is a skill which can be easily and quickly picked up with our simple to follow steps below. It's important to remember that with a Multi-Fuel Stove you are aiming for a strong GLOW and not a  flame. We hope you find it helpful.
1. Before lighting the stove, ensure that any build-up in the firebox has been removed and that the ashpan has been emptied.
2. On stoves with spin valves (this includes the Stanley Oisin, Oscar, Fionn and Tara), open the spin valve by turning it anti-clockwise.
3. Arange a few sheets of loosely crumpled balls of newspaper in the centre of your grate.
4. Place a few small sticks, kindling or an approved firelighter on top of your crumpled leaving plenty of space between for the air to circulate.
5. Ignite the paper in several places with a match or lighter and close the door.
6. When the fire is well established add fuel to the firebox, but do not overload. Stoves with a spin valve should be adjusted to the required setting.
7. Never allow the ashpan to overfill, doing so will result in the grate burning out prematurely (leaving a small amount of ash in the firebox is desirable though and can aid the lighting process).
8. Waste ash should be placed securely in a metal container with a tight fitting lid. The closed container of ashes should in turn be placed on a non-combustible floor and well away from all combustible materials while awaiting final disposal (we recommend the Stanley Ashmaster).
N.b. Never ever use flammable liquids such as petrol or paraffin to start or freshen the fire in a stove
Cresote/Tar Formation And The Need For Removal
When some solid fuels with a high moisture content are burned slowly they produce tar and other organic vapours which when combined form creosote. These creosote vapours usually condense as residue in the relative cool of the stoves chimney flue. Creosote,  when ignited produces an extremely hot fire and can pose a danger. As such you should ensure that your stoves flue and chimney is professionally cleaned twice a year.
Important Fire Safety Points
To provide reasonable fire safety all homes with and without a Multi-Fuel Stove should give serious consideration to the following:
1. Install and maintain smoke detectors
2. Purchase a small class 'A' fire extinguisher
3. Prepare a practical evacuation plan an discuss it with your family
4. Form a plan to deal with a chimney fire, as follows:
– Call 999 for the emergency services

– Close all openings to the stove if safe to do so

– Evacuate your home or premises ensuring everyone is accounted for

– While awaiting the emergency services watch for any further ignition from escaping sparks or embers from your chimney
What To Do Now…
If your shopping for a stove or you would appreciate some further expert advice why not Visit Us in-store today at Dalzell's of Markethill, your local Multi-Fuel Stoves Retailer in Northern Ireland where you can view a range of exclusive stoves from brands like Stanley Stoves. We're conveniently situated on the main road between Armagh and Newry, just 1 Hour from Dublin and 45 Minutes from Belfast.  Or alternatively you can Contact Us by email and/or call us for the Best Deal, Unbeatable Service and Free Delivery of any new Stove or any other appliance your home may require anywhere in Northern Ireland and Counties Louth, Monaghan & Dublin in Ireland (competitive delivery rates across the rest of the UK and Ireland).
If you wish to read further on Multi Fuel Stoves before getting in contact with us why not consider visiting our Solid Fuel Stove Buyers Guide or our previous blog article, Multi Fuel Stoves – Top Ten Tips
We Appreciate Your Business!
Tags: Multi-Fuel Stoves, Solid Fuel Stoves, Stoves, Wood Burning Stoves