LG

Infinia LX9900 Full LED 3D TV
The LG Infinia LX9900 Full LED 3D TV series is a whole new type of TV that'll provide your living room with the ultimate in home entertainment; better picture quality, ultra slim single layer Infinia design and more eco friendly features to save on utility bills. What's more you'll have full access to the best internet content with You Tube, Facebook and much more besides at your fingertips from the comfort of your favourite chair with LG's Netcast media platform! As well as being 3D Ready (2 Pairs of Active Shutter 3D Glasses included) – the LG Infinia LX9900 Full LED 3D TV Series produces 3D images in glorious Full 1080p High Definition. The LG Infinia LX9900 is also equipped with Freeview HD providing subscription free access to more than 60 digital channels including Movies, News and Music.
Its the sheer slimness of the LG Infinia LX9900 that grabs your attention; it's just 31mm in depth – This is especially impressive given that LED TVs tend to be much fatter than edge LED backlit models. Equally as impressive is its secondary remote which operates just like a Nintendo Wii Nunchuk. It's easily the TV industry's finest and most user friendly interface. What's more it's even possible to point the nunchuk remote control at the screen and completely replace the traditional remote control … and if you require more complex functions that the nunchuk can provide, a virtual remote control pops-up on the LX9900's screen!
Infinia 3D Specifications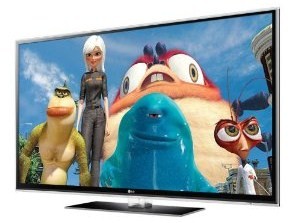 In addition to LG's Netcast media platform, the LG LX9900 also features 'My Media' for digital content received through 2.0 USB, Ethernet or DLNA Wireless connections. What's more the file compatibility of the LG Infinia LX9900 is superbly extensive with DivX HD and WMV HD files among many that are easily accommodated. Elsewhere on the LX9900 home screen you'll find several Nunchuk friendly games and a summarised menu that uses a virtual wheel of features for you to point and click at.
The LG Infinia LX9900 3D LED TV Series boasts a superb picture processor which produces a staggering contrast ratio of 10,000,000:1 with screen refresh rates of 400Hz for flicker free viewing of fast moving television like action movies and sports.
The LX9900 Series is graced with excellent connectivity with 4 HDMI, Scart, PC Input, 2.0 USB and DLNA Wireless for convenient linking of numerous AV devices and electronics gadgets.
LG Infinia LX9900 Series
The LG Infinia LX9900 Series is available as both a 47″ and 55″ Screen, 3D TV is best viewed on a large screen!
– LG Infinia 55″ 55LX9900 3D Full LED TV
– LG Infinia 47″ 47LX9900 3D Full LED TV
LG has been chosen by SKY TV as their recommended provider of 3D TVs for their launch of the UK's first commercial 3D channel.
What to Do Now…
To view the full range of LG Infinia Full LED 3D TVs and for a full demonstration of 3D TV Visit Us in-store today at Dalzell's of Markethill, your local LG Retailer in Northern Ireland, we're conveniently located on the main road between Armagh and Newry.  Or, Contact Us by email and, or call us to place your order today for the Best Deal, Unbeatable Service and Free Delivery of your new LG Infinia 55LX9900 or 47LX9900 Full LED 3D TV anywhere in Northern Ireland (from Belfast and Lisburn to Londonderry!) and Counties Louth, Monaghan and Dublin in Ireland. We appreciate your business.
If you want to know more about the LG Infinia LX9900 LED 3D TV Series why not watch our short video below. Enjoy!
Tags: 3DTV, Home Entertainment, Infinia, LED, LG, Televisions