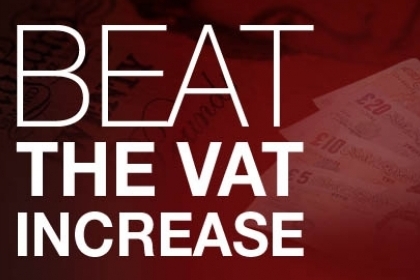 Save Cash By Ordering Now!
Are you thinking about changing your Kitchen in the New Year or the Spring? Are you putting of the purchase of that big 3D Television for your living room to the New Year Sales? If so. Don't! you need to Contact Dalzell's of Markethill today for the Best Deal, Unbeatable Value and Free Delivery across Northern Ireland and Counties Louth Monaghan and Dublin in Ireland.
The rate of VAT in Northern Ireland and the rest of the UK is going up from 17.5% To 20% on the 1st January 2011. The Good News Is This – We at Dalzell's of Markethill have been here many times before and with more than 50 Years Of Electrical Expertise we know how to look after our customers and protect them from the governments stealth taxes!
5% Deposit Secures 2010 Appliance & TV Prices
To shield yourself, and your wallet! From the VAT rise on January 1st 2011 Dalzell's of Markethill are offering all their fantastic customers the opportunity to secure Kitchen Appliances, Televisions, Home Cinema Systems and whatever else you desire to purchase from Dalzell's of Markethill in 2011 at the Cheaper 2010 Prices by simply reserving your goods with a 5% Deposit before the 1st January 2011!
This fantastic deal has the potential for Significant Cash Savings with cheaper kitchen appliances, televisions and much more besides as well as allowing you to get one over on the governments latest stealth tax! What's more we'll store your goods in our warehouses until your ready for them to be delivered. You'll also be protected against any increase in the price of your chosen Kitchen Appliances or Television at a time of increasing price inflation in the electrical retail industry.
What to Do Now…
To our massive range of Electrical Appliances and Home Entertainment Goods and for a full demonstration of the latest home technologies Visit Us in-store today at Dalzell's of Markethill, your local Electrical Appliances Retailer in Northern Ireland, we're conveniently located on the main road between Armagh and Newry.  Or, Contact Us by email and, or call us to place your order today for the Best Deal, Unbeatable Service and Free Delivery of your new Kitchen Appliances and Televisions anywhere in Northern Ireland (from Belfast and Lisburn to Londonderry!) and Counties Louth, Monaghan and Dublin in Ireland. We appreciate your business.
Tags: Kitchen Appliances, Promotions, Televisions, VAT Rise