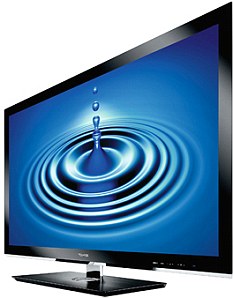 The
Toshiba
REGZA VL Series of HD LED TVs
Toshiba has unveiled its latest series of HD LED TVs. Although not realised for sale until the end of October we thought we'd let you have an advance look see! The REGZA VL series are being billed by Toshiba as a 'premium range of Full HD LED TVs'.
Available as a 40″ (102cm) and 46″(117cm) LED Screen, the new REGZA VL series blends premium technologies and innovation with a uniquely modern design. Both models offer Full 1080p HD Resolution, Integrated Freeview HD and 100Hz picture processing. Digital connectivity is fully satisfied through DLNA Wi-Fi Compatibility with in-built YouTube and BBC iPlayer applications.
First-class images, first-class audio
The REGZA VL series will also offers owners rich, immersive audio, thanks to Dolby Volume and Toshiba SoundNavi technology. Dolby Volume keeps eliminates those annoying fluctuations in volume common in commercial breaks, channel and source changes. While SoundNavi provides for stronger sound projection through optimising the output and direction of the integrated speakers once wall mounted.
Danish Design – Jacob Jensen
Designed in collaboration with Danish designer's Jacob Jensen Design, the Regza VL series features a completely revised appearance from any Regza range launched before it.
Jacob Jenson, are the design team behind many of Bang & Olufsen's most successful Audio Visual products – hence the REGZA VL's strokeable beauty and heavy use of shiny black.

This latest Toshiba REGZA LED TV has been manufactured using complementary and visually striking elements, each REGZA VL series model boasts a unique look based on the principle of clean lines and the use of high quality materials that includes both glass and metal.
What To Do Now…
To view the full range of Toshiba REGZA Televisions, matching Home Cinemas and for a full demonstration of the new REGZA VL LED TV series once in stock Visit Us in-store at Dalzell's of Markethill, your local Toshiba Retailer in Northern Ireland.  We're conveniently located in Markethill on the main road between Armagh and Newry.  Or, Contact Us by email and, or call us to place your order today, remember at Dalzells we will also give you Free Delivery on your new Toshiba Regza VL LED TV anywhere in Northern Ireland (from Belfast and Lisburn to Londonderry!) and in Ireland to Counties Louth, Monaghan and Dublin. We appreciate your business.
To learn more about the Toshiba REGZA VL Series of HD LED Televisions watch our video below, enjoy!