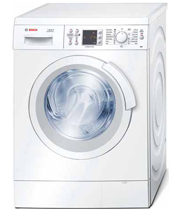 Bosch has long been associated with the highest standards in Domestic Appliances, through the latest technology and predictably excellent German build quality and design.
Bosch
Logixx 8 VarioPerfect
The Bosch Logixx 8 VarioPerfect series of washing machines brings the latest advances in technology to the very centre of todays home for greater convenience and efficiency.
At the centre of the Varioperfect lyes the Bosch developed Ecosilence Motor, this new brushless powerplant is faster, quiter, durable, powerful and more energy efficient than anything previously developed.  Using similiar technology to that found in wind turbines Bosch has achieved maximium power with minimium energy loss.
The curious Spiral Design of the washing Machines side walls adds greater stability and reduced vibration, thus by default making for a quieter washing machine, making it the perfect choice for open plan living!
So efficient is the Logixx 8 Varioperfect that not only is it an A Energy Rating, but it achieves this using 30% less energy than the qualifying standard required!
The

Bosch

Logixx 8 VarioPerfect Washing Machine Series
The Logixx 8 VarioPerfect series of Washing Machines are available in three different models, a 1600, 1400 and 1200 Spin Speed.  With incredibly low wash noise levels of  between 50-52db this washer is truly whisper quite.
– 1600 Spin Speed Logixx 8 VarioPerfect WAS32460GB

– 1400 Spin Speed Logixx 8 VarioPerfect WAS28460GB

– 1200 Spin Speed Logixx 8 VarioPerfect WAS24460GB
All Bosch Logixx VarioPerfect Washing Machines are endorsed by the Energy Saving Trust for their energy and water efficiency.
What To Do Now

…
To view the Bosch Logixx 8 VarioPerfest Series of Washing Machines Visit Us in-store today at Dalzell's of Markethill, your local Bosch Retailer, we're conveniently located on the main road between Armagh and Newry.  Or Contact Us by email and/or call us for the best deal, remember at Dalzell's, we will also give you Free Delivery on your new Bosch Washing Machine anywhere in Northern Ireland (from Belfast and Lisburn to Londonderry!) and the border Counties of Louth, Monaghan and Dublin.
Check out our video below to get a feel for the fantastic VarioPerfect Washing Machine from Bosch and what their capable of in todays modern home.
Tags: Bosch, Ecosilence, Kitchen Appliances, Logixx 8, VarioPerfect, Washing Machines