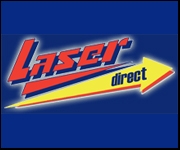 Dalzell's of Markethill have acquired the rights to Laser Direct.co.uk the e-commerce store of the late Northern Ireland Electrical Retailer Laser Electrical Ltd which went into administration and subsequent closure earlier this year.
All of us at Dalzell's of Markethill fully realise the opportunity that this acquisition presents to us as an Independent Electrical Retailer in Northern Ireland to further extend knowledge of our brand by reaching out to Laser's former customers.
A Big Welcome
!
We would like to welcome and share with Laser's customers in our success as a leading High Street and Online Electrical Retailer of Kitchen Appliances and Home Entertainment Goods across Northern Ireland.  We'll do this by helping you to find, understand, purchase and enjoy the very latest technology and innovative electricals at a fraction of typical high street prices.  We'll give you the very Best Deal, Free Delivery and Unbeatable Service every time.
What's more, we'll even Collect and Recycle Your Old Appliances on a like for like basis (See Delivery for Details).  Call, Email or visit us today for the D-Deal and a new experience in purchasing Electrical Appliances in Belfast, Lisburn and across Northern Ireland.
Laser Electrical Ltd and LaserDirect.co.uk
Laser Electrical had ten store electrical stores in Northern Ireland which where largely focused in the greater Belfast area as well as Lisburn, Antrim, Coleraine, Bangor, Lurgan and Londonderry areas of the N.I. High Street alongside their Online presence.  Laser Electrical was a local independent electrical retailer established for more than 25 years and actively involved itself in the community in which it served.  So it is with some sadness, particularly for Lasers employees that we came to acquire LaserDirect.co.uk
The Same Products, Brands And Much More…

At Dalzell's and Armagh Electrical.com we stock all the brands you loved shopping for at Laser and much more besides, we stock all the leading and niche brands across the Kitchen Appliances and Consumer Electronics sector.   Our warehouses have more than 7,000 Domestic Appliances and Television in stock and we display more than 700!  What's more we only deal direct with the manufacturer to bring you the best deal.  We Buy Bigger, So You Buy Better!
To learn more about Dalzell's of Markethill visit the About Us section of our website or Visit Us in-store at Dalzell's of Markethill, we're conveniently situated in Markethill between the Northern Irish cities of Armagh and Newry. Or, Contact Us by email or phone for the best deal, unbeatable service and Free Delivery across Northern Ireland.
We Appreciate Your Business!
Tags: Kitchen Appliances Belfast & Lisburn, Laser Direct.co.uk, Northern Ireland, Televisions Belfast & Lisburn